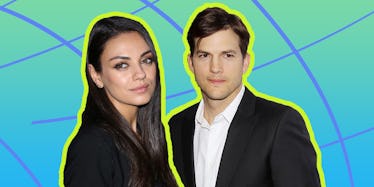 Mila Kunis And Ashton Kutcher Won't Let Their Kids Turn Into Spoiled Brats
REX/Shutterstock
Mila Kunis' kids may be blessed with successful parents, but she's not going to let that go to their heads.
In a recent interview with the Australian radio show, "Kyle and Jackie O," the 32-year-old mom talked about the struggle of making sure her children with Ashton Kutcher understand their privilege.
Mila said before the couple decided to have their first child, they talked about the importance of teaching him or her "not be an asshole."
The one topic of conversation we had even prior to ever having kids was always 'How do you raise a child to not be an asshole?' And it's so important because we both came from pretty, pretty, solid poverty backgrounds and grew up very poor and are very much self-made and are very aware of what a dollar is worth.
Mila was born in Ukraine before her family immigrated to Los Angeles when she was 7 years old.
The actress said while she is grateful her children never have "to have ketchup soup for dinner," she is also worried their easy access to money may mean missing out on important life lessons.
Mila said,
It's a matter of teaching them from a very early age that you know mommy and daddy may have a dollar, but you're poor.
Ashton and Mila announced they were expecting their second child in July.
Those kids are going to be hella grounded whether they want to be or not.
Citations: Mila Kunis Dishes on Parenting With Ashton Kutcher: ''How Do You Raise a Child to Not Be an A--hole?''—Watch! (E! News)