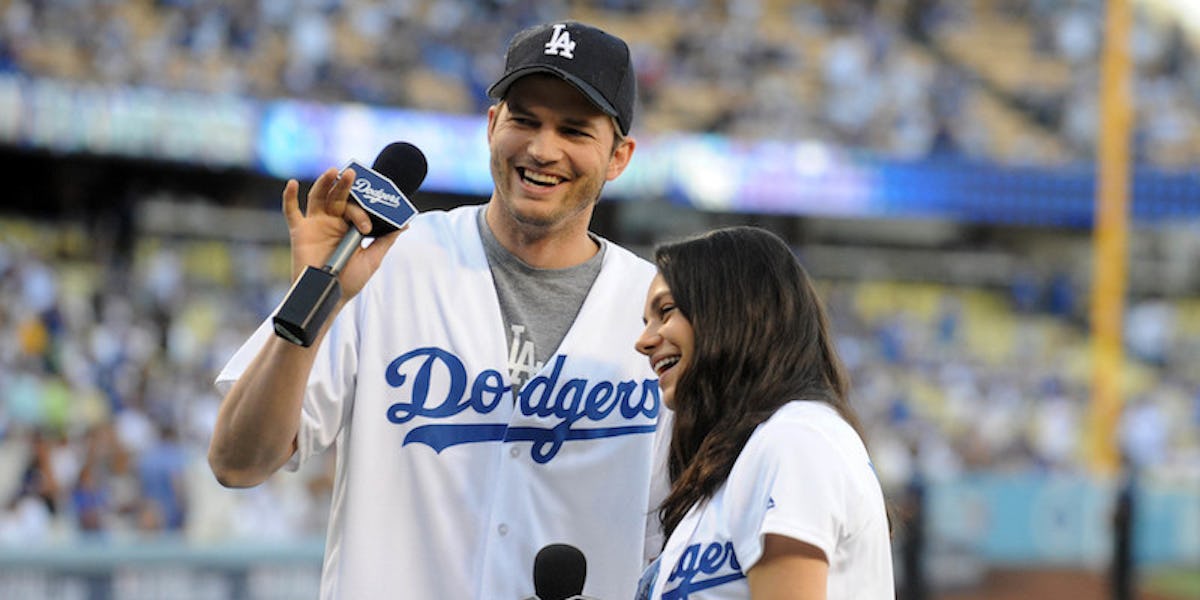 Ashton Kutcher And Mila Kunis Had Too Much Fun Announcing The Dodgers Lineup
REUTERS
If you aren't sad it's two months into cuffing season and you're still all alone, then step away from this article before you become depressed.
(But really don't actually click out -- keep reading because this is too cute to be bitter about.)
Mila Kunis and Ashton Kutcher are adorable. They're having their second child, and we're so happy for them!
As Jackie and Kelso on "That '70s Show," they taught us even the biggest bitch or stupidest man on Earth can find true love.
In real life, they prove marriage and children don't make a beautiful relationship boring.
This past Wednesday, Mila and Ashton had a day date at Dodger Stadium in Los Angeles, California. They even wore matching Dogders jerseys.
I'm actually Fez, though. Creepiness and all.
Before the game started, the couple walked out onto the field and announced the starting lineup for the LA Dodgers.
Mila is so heart-eyes emoji over Ashton in this video I want to die.
An ESPN writer tweeted Ashton even made a funny about one of the players.
"On the mound, your baby boy, who can't drink champagne yet, Julio Urias," he said, talking about the youngest starting pitcher in major league playoff history.
I'm sure Mila can sadly relate.
The Dodgers were happy to have them around, too!
The team's Twitter account wouldn't shut up about the special guest appearance.
.@aplusk and Mila Kunis in the house! They'll be announcing tonight's #Dodger lineup! Head to https://t.co/zd8Ug5wiTe to watch! pic.twitter.com/17GJB3i4j2 — Los Angeles Dodgers (@Dodgers) October 19, 2016
"Superman right there." We agree, Kelso...er, @aplusk. pic.twitter.com/Hurh4YNpoy — Los Angeles Dodgers (@Dodgers) October 20, 2016
GOALS AF.
The baseball team was so hype, Justin Turner, who plays third base, even stopped to take pictures with Mila and Ashton!
Ashton pointed at the Dodgers player and exclaimed,
Superman right there!
But remember when Ashton Kutcher actually auditioned to be Superman? I don't know if I could ever take him seriously, TBH. But I would like to see him in a skin-tight suit.
Citations: Ashton Kutcher and Mila Kunis Adorably Announce Lineup at Dodgers Playoff Game (Entertainment Tonight)