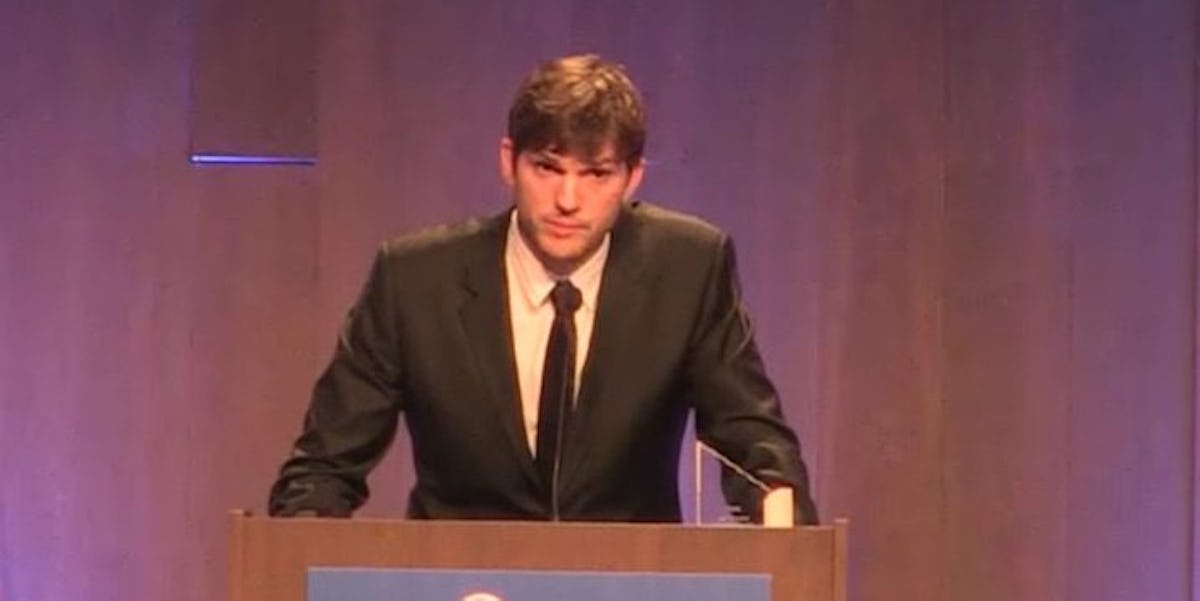 Ashton Kutcher's Moving Tribute to Mila Kunis Is Proof They Have Best Love Story
YouTube
Ashton Kutcher and Mila Kunis might just be Hollywood's greatest love story.
I mean, they started off as Kelso and Jackie on "That '70s Show" back in 1998, and now, nearly 20 years later, Ashton is giving 16-minute-long acceptance speeches where he gushes about how great his wife is.
OK, to be fair, not all 16 minutes of Ashton's speech for the Robert D. Ray Pillar of Character Award on Saturday night was about Mila, but a significant portion of it was.
The 39-year-old actor was presented this award for character at "An All-Star Evening" at the Ron Pearson Center in West Des Moines, Iowa — Ashton's home state.
Ashton began his speech by stating he wasn't even sure he was going to accept the award at first, and then mused for a bit on the nature of "character."
He then took some time to honor his twin brother, Michael Kutcher, who was born with cerebral palsy.
Finally, he concluded with a moving tribute to his two children, 2-year-old Wyatt and 4-month-old Dimitri, and his wife, Mila Kunis, whom Ashton said "kicks [his] ass on character every day."
Ashton said,
As long as you have love and kindness and optimism and a pursuit of something greater in your heart, you're the lucky one. So this award is for you. It is for my family, it's for all four of my parents, it's for my wife, who kicks my ass on character every day.
As an example of said character ass-kicking, Ashton went on to say,
I'm telling you, this morning, I woke up and she kicked my ass on character. I thought I was awesome because I got up early and helped with the kids before she woke up and I let her sleep a little bit and then she's like, 'Well, now you're gonna act tired? I do it every day.' But it was a character moment, right? Because she's right!
Aston's closing tribute was to his children, whom he called "the greatest, greatest lesson of [his] life."
He said,
When I had these kids, my wife and I had these kids and we got to share that amazing, amazing, amazing honor, my first response was, I wanted to call my parents and say, 'I'm sorry, because I never knew how much you loved me.'
Cool, I'll just be over here crying then. Thanks a lot, Kelso!
Citations: Ashton Kutcher receives Pillar of Character Award, credits upbringing in Iowa (The Gazette)