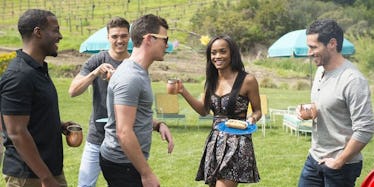 Ashton Kutcher And Mila Kunis Kick Off Rachel's First 'Bachelorette' Group Date
Michael Yada/ABC
For most people, a first date tends to consist of drinks, a (hopefully) nice conversation, perhaps dinner, and, if all that goes well, some kind of makeout or hookup.
For The Bachelorette, however, first dates are much, much more intense. In Monday night's new episode of The Bachelorette, Rachel went on her first group date, and it was something that only a reality TV producer could think of.
Rachel selected Dean, Jack Stone, Iggy, Lucas, Fred, Blake E., and Kenny for the first group date at Malibu Wine Safari, a vineyard not too far from Los Angeles that lets guests explore wine in safari vehicles.
I know what you're thinking — a vineyard doesn't sound like a very far-fetched setting for a date. However, it wasn't where the date took place that made it weird, but what happened once they got there.
Instead of just trying some wine and getting to know Rachel, the men had to compete in a "husband material" obstacle course, which is about as ridiculous as it sounds.
After tossing around a football with Rachel, two Bachelor superfans who you might recognize showed up: Ashton Kutcher and Mila Kunis.
Apparently, the A-list couple watches the show and all of its spinoffs every Monday night, so they were very excited to introduce the "husband material" challenge.
Even before the challenge started, Kutcher wasn't impressed and announced he doesn't think Rachel's future husband is in this group. If Rachel was actually paying attention to the race, I have a feeling he was right.
The guys had to race to do things that I guess make you a good husband in Rachel's eyes, like changing a baby and doing chores with said baby strapped to your chest.
While running around with a doll in a carrier, the guys had to vacuum, do dishes, grab an engagement ring, set the table, and pick up a bouquet of flowers.
There were dolls hitting the ground all over the place and the guys got pretty aggressive, so I don't think any of their performances were worthy of earning that "husband material" status.
But someone had to win, and that someone was...
...Lucas. Yes, the Whaboom guy.
And yes, he did his signature sound in front of a very unimpressed Kutcher and Kunis. For the sake of everyone watching at home, let's hope Rachel doesn't put too much stock in this victory. Lucas needs to leave The Bachelorette ASAP.