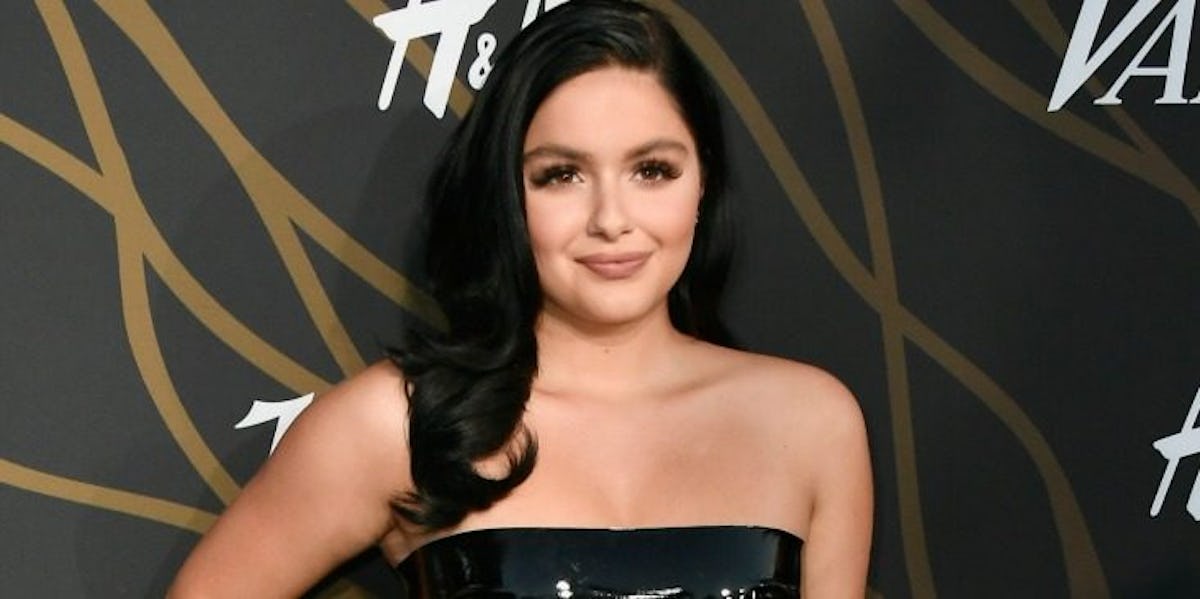 Here's What Ariel Winter Looked Like At Her First Ever Emmy Awards
Getty Images/Frazer Harrison
Modern Family is one of my favorite TV shows. It's hilarious, heartwarming, and I feel like I've watched the entire cast grow up. No one has had quite a glow-up like Ariel Winter. She plays the bookish, quick-witted Alex Dunphy who is hard not to love. Alex is hilarious and brilliant, but IRL Winter is slaying just as hard. You won't even recognize Ariel Winter at the 2010 Emmys compared to now — the girl is all grown up and has it all.
She always looks gorg and has a boyfriend she's crazy about. Winter has been with her boyfriend, Levi Meaden, for about nine months. Apparently, he's a keeper because Winter and Meaden have matching tattoos and live together. During an interview on Jimmy Kimmel Live, the 19-year-old gushed about his cooking skills.
My boyfriend and I live together, and he cooks. I can't cook at all. He takes care of all that handy stuff, he's great, he does all that. I can bake a pie occasionally. Pumpkin and apple, I baked those two the other day. They were edible.
If he does the dishes after he cooks... MARRY HIM. Ah, romance. Winter also isn't afraid to clap back at any haters. According to Cosmopolitan, a publication named Star Magazine ran a story in June 2017 regarding Winter's relationship with the 29-year-old Meaden. The article made a lot of strong accusations. One of the more severe suggested that Meaden was not her boyfriend, but rather a paid personal assistant. Winter was having none of that. She took to Instagram and said,
Star Magazine is OBVIOUSLY a non reputable source and a trash magazine, but seriously how dare you make up stuff that you have no idea about? I have a BOYFRIEND and a PERSONAL ASSISTANT who are NOT the same person. I would NEVER pay my boyfriend ANY sort of allowance, nor would he EVER accept if I offered. He BUYS his own stuff whether it's for me or for himself, and he more than pulls his weight for our life. I HATE fake news, but I guess that's what our world has come to. Get your shit straight. I don't support anyone, and I don't need anyone to support me. He's got a full career (including something huge that's new) and works hard for it. He's not just someone's boyfriend. So if you don't know us, don't comment. Xoxo
Dayummm. She isn't that little girl from Modern Family anymore. Winter also loves showing off her sexuality with tight fitting outfits and provocative photos on social media. I love her red carpet looks, and can't wait to see what she rocks at the 2017 Emmys.
Ariel Winter first walked the red carpet at the Emmys in 2010. She wore a strapless navy blue gown with black detailing and a ruffled bottom. She was just 12 years old and so adorable.
Honestly, why have we all had our hair done like this at one time in our lives? Is this a standard pre teen 'do or did we all like this look?
Six years later, at last year's Emmys, Winter looked glammed up and almost unrecognizable.
Love, love, love the way she dresses. Winter definitely likes to dress in clothes that make her feel confident. In May, she attended a panel and screening to promote Modern Family. She became the butt of a joke for wearing a gold cut out dress with matching gold pumps while the rest of the cast looked casual.
Did she run and hide? Hell to the no. Winter defended her wardrobe and encouraged others to "wear whatever you want." She said in an Instagram post,
Why TF does anyone care that I didn't dress casual like everyone else for the panel? Why do I have to be like everyone else? Why can't people just let other people feel good about themselves and do what they want? WEAR WHATEVER YOU WANT PEOPLE! As long as you feel good about yourself that's what matters. I know I did. Don't ever let anyone stifle who you are and how you express yourself. Rant over.
Tell 'em. While Ariel Winter has changed a lot since her first Emmys red carpet in 2010, I'm glad she's finding her way and growing into a badass woman. Have a fabulous award show, Ariel.