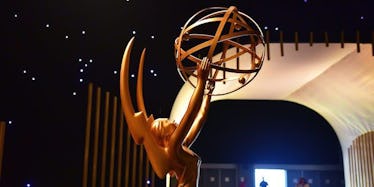 Here's How To Live Stream The Emmys, So You Don't Miss A Thing
FREDERIC J. BROWN / Getty Images
Is there any greater joy in this world than discovering a new series that you love, and then binge watching it all while pounding Ben & Jerry's delivery ice cream and creating nine disparate think blogs about said series? Anyone? The hottest television awards show is quickly approaching, and you better believe I am turning out and tuning in to support my favorite shows. Here, we break down how to live stream the Emmys so you don't miss The Handmaid's Tale clean house. I mean, what? Who said that?
Drum roll, please.
The big show is happening this upcoming Sunday, Sept. 17 at 8 p.m. EST on CBS. If for some reason you can't watch the super vintage way (by using a regular old television), you can live stream the Emmys in over 125 cities by popping over to CBS All Access online.
BONUS DEETS! If you want to catch the red carpet and all the glitz and glam of Samira Wiley (and everyone else, I guess) you can catch the fashion extravaganza live stream event at E! Online, starting at 4:30 p.m. EST.
Plus, there you'll see the first glimpses of our Master of Ceremonies and host of the night, the one and only Stephen Colbert.
Colbert, of course, wasted no time using his new gig as a platform to take a jab at our current president, He Who Shall Not Be Named. Entertainment Tonight reports that in his first statement about hosting the show, Colbert said, "This will be the largest audience to witness an Emmys, period. Both in person and around the globe."
Good one, Colbert.
Catch highlights from the list of nominees below, and I'll see you and your laptop (Apple TV, Android, iPad, iPhone, Roku, Xbox, what have you) on Sept. 17!
Drama Series "Better Call Saul" (AMC) "The Crown" (Netflix) "The Handmaid's Tale" (Hulu) "House of Cards" (Netflix) "Stranger Things" (Netflix) "This Is Us" (NBC) "Westworld" (HBO)
Comedy Series "Atlanta" (FX) "Black-ish" (ABC) "Master of None" (Netflix) "Modern Family" (ABC) "Silicon Valley" (HBO) "Unbreakable Kimmy Schmidt" (Netflix) "Veep" (HBO)
Drama Actress Viola Davis ("How to Get Away with Murder") Claire Foy ("The Crown") Elisabeth Moss ("The Handmaid's Tale") Keri Russell ("The Americans") Evan Rachel Wood ("Westworld") Robin Wright ("House of Cards")
Drama Actor Sterling K. Brown ("This Is Us") Anthony Hopkins ("Westworld") Bob Odenkirk ("Better Call Saul") Matthew Rhys ("The Americans") Liev Schreiber ("Ray Donovan") Kevin Spacey ("House of Cards") Milo Ventimiglia ("This Is Us")
Comedy Actor Anthony Anderson ("Black-ish") Aziz Ansari ("Master of None") Zach Galifianakis ("Baskets") Donald Glover ("Atlanta") William H. Macy ("Shameless") Jeffrey Tambor ("Transparent")
Comedy Actress Pamela Adlon ("Better Things") Tracee Ellis-Ross ("black-ish") Jane Fonda ("Grace and Frankie") Lily Tomlin ("Grace and Frankie") Allison Janney ("Mom") Ellie Kemper ("Unbreakable Kimmy Schmidt") Julia Louis-Dreyfus ("Veep")
Limited Series "Big Little Lies" (HBO) "Fargo" (FX) "Feud: Bette and Joan" (FX) "The Night Of" (HBO) "Genius" (National Geographic)
Variety Talk Series "Full Frontal With Samantha Bee" (TBS) "Jimmy Kimmel Live!" (ABC) "Last Week Tonight With John Oliver" (HBO) "The Late Late Show With James Corden" (CBS) "Real Time With Bill Maher" (HBO) "The Late Show with Stephen Colbert" (CBS)
Reality Competition "The Amazing Race" (CBS) "American Ninja Warrior" (NBC) "Project Runway" (Lifetime) "RuPaul's Drag Race" (vh1) "Top Chef" (Bravo) "The Voice" (NBC)
Television Movie "Black Mirror: San Junipero" (Netflix) "Dolly Parton's Christmas Of Many Colors: Circle Of Love" (NBC) "The Immortal Life Of Henrietta Lacks" (HBO) "Sherlock: The Lying Detective (Masterpiece)" (PBS) "The Wizard Of Lies" (HBO)
Structured Reality Program "Antiques Roadshow" (PBS) "Diners, Drive-Ins and Dives" (Food Network) "Fixer Upper" (HGTV) "Lip Sync Battle" (Spike TV) "Shark Tank" (ABC) "Who Do You Think You Are" (TLC)
Unstructured Reality Program "Born This Way" (A&E) "Deadliest Catch" (Discovery Channel) "Gaycation With Ellen Page" (Viceland) "Intervention" (A&E) "RuPaul's Drag Race: Untucked" (YouTube) "United Shades Of America: With W. Kamau Bell" (CNN)