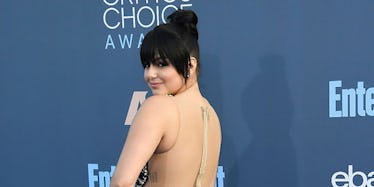 Ariel Winter Got A New Butt Tattoo And Its Meaning Is Super Deep – PHOTO
Frazer Harrison/Getty Images
Ariel Winter has not, does not, and will not, care about what you have to say about her body.
The 19-year-old actress of Modern Family fame is known for her salacious Instagram and Snapchat posts, and also for speaking out against body haters and shamers. Not one to shy away from the camera, she is once again letting us into her loud and proud life, one sexy photo at a time.
On Sunday, July 23, Ariel Winter posted a Snapchat photo of her new butt tattoo, delicately draped around her lower hip. In the photo she shared on Snapchat, Winter appears to be naked from the waist down, captioning the image, "Love risks everything and asks for nothing."
Entertainment Tonight reports these words are written in cursive, but I beg to differ. In doing a lot of personal investigating (which involves zooming in and rotating my computer upside down) it looks like the phrase on Winter's toosh is actually in Greek.
It is one of at least now eight pieces of art on the actress' body. The rest include:
1. The date October 3, 2012, which is when Winter moved in with her sister and "started a new chapter of life."
2. A spade on her wrist. Ariel claims she loves playing cards and it's her "favorite thing in the world to do."
3. The tiger on her back, saying, "I've always felt like I am a protector for other people and I've always had these amazing protectors in my life."
4. A list of all of her nieces and nephews initials on her rib cage.
5. A broken, red heart on her left palm she got with a close friend.
6. A slinky, slithering snake that twirls up her wrist.
7. And a slice of cheese on her finger that is coincides with her boyfriend's tattoo of a peanut butter jar. The duo call themselves, "PB&C" for peanut butter and cheese.
On her tattoos, Winter has said,
I love getting tattoos. I think it's a super fun way of expressing yourself. I only get tattoos that are really meaningful to me and I love it.
We love it too, girl.