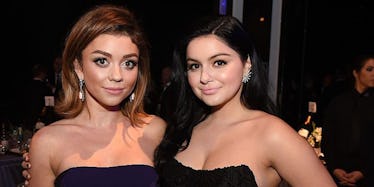 Sarah Hyland Calls Out Paparazzi For Trying To Start Drama With Ariel Winter
Getty Images
If you're like me, you likely want to trade in your own family for the Dunphys from "Modern Family." I mean, Cam as an uncle, Phil as a dad or Manny as a little cousin? I'll take two please, THANK YOU.
Well the good news is we get the next best thing, which is a renewed 9th and 10th season of the hit ABC show. HOORAY!
On the show, Sarah Hyland and Ariel Winter play bickering sisters and they have been a joy to watch grow up on camera. IRL though, they're incredibly close and if anyone wasn't clear on that before, they should be now.
Last night, Sarah, 26, tweeted out a message referring to paparazzi apparently urging her to talk shit about her 19-year-old friend and TV sister.
She said,
Paps at the airport trying to get me to talk shit about my girl @arielwinter1, Y'all digging for something you're never gonna get.
The post quickly garnered 3,000 likes, plus this response from Ariel.
SARAH, WE ALSO LOVE YOU!
The support is extra welcome, as Winter regularly catches social media trolling and hate, finding herself always in a position to defend herself.
The young starlit is not shy about her (truly gorgeous) body, from displaying scars from a previous breast reduction surgery on the red carpet to posting lots and lots of glam shots of her booty on Instagram and Snapchat -- and fans have some thoughts.
Most recently, haters blasted Winter for wearing a short, revealing gold dress to a panel with her costars, when the rest of the crew was dressed objectively casual. Ariel couldn't roll her eyes hard enough, posting this message on Instagram:
The caption reads,
Why TF does anyone care that I didn't dress casual like everyone else for the panel? Why do I have to be like everyone else? Why can't people just let other people feel good about themselves and do what they want? WESR WHATEVER YOU WANT PEOPLE! As long as you feel good about yourself that's what matters. I know I did. Don't ever let anyone stifle who you are and how you express yourself. Rant over :)
Sing it, sister. In the meantime, Sarah has your back and so do we!