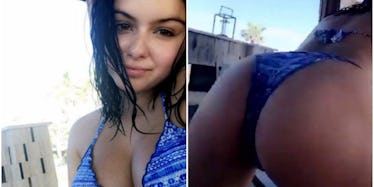 Ariel Winter Strips Down To A Thong Bikini And Twerks In NSFW Snapchat Video
Snapchat
As Ariel Winter told us recently, "If somebody doesn't like what I'm doing, you can unfollow me."
But for those who do, prepare for a treat.
The 18-year-old gave her fans what they wanted when she stripped down to a tiny thong bikini and twerked with the "fast speed" filter on Snapchat.
Nothing says "sass" like an ultra-fast booty twerk.
She's down in Mexico with Levi Meaden at the moment and keeping everyone up to date with her adventures via the social media platforms we all know and love.
She's not one to be shy about her body, but it hasn't always been that way. In a recent interview with Elite Daily's Katie Corvino, the actress shared,
Over the years, I've struggled with body confidence issues… It's really important nowadays to empower young women — and young men… to feel really good about themselves, not only their appearance, but to feel good enough to speak about issues that are important to them and to stand up for themselves when necessary.
Ariel said it's "taken [her] years to be able to get to a place where [she's] OK" with the hate she gets online.
She continued,
I started out at 11 years old in the spotlight, and I was super flat… I had no curves and I was getting hate for that. Then I turned 12, and my body changed instantly and I was this curvy woman… but as soon as that happened, I got so much hate for that [too]. And it was really hard for me… I'd read the negative comments and think to myself, well maybe if I just change [this one thing] people will like me… they'll appreciate the things I have to say and the things I do. But that never happened. They never appreciated anything I did regardless.
Haters gonna hate.