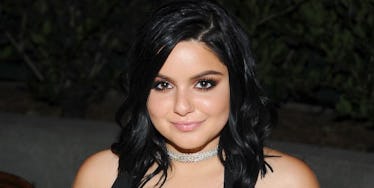 Ariel Winter Wears Minidress And Thigh-High Boots, Posts Sexy Snapchat In Bed
REX/Shutterstock
Ariel Winter is back, baby!
I don't know if it has to do with the time of year, or the fact she's in a relationship with 29-year-old Levi Meaden, but it was starting to feel like the 19-year-old "Modern Family" star just wasn't posting her typically scandalous and sexy photos on Instagram and Snapchat.
Well, as you're about to see, the hiatus is over!
Thursday night, Ariel Winter reportedly kicked it at Catch LA in West Hollywood, California, and she stepped out wearing a sexy, skintight white minidress and thigh-high boots.
Crushing it! If you like what you see in the Instagram photo above, just wait until you check out the sexy bedroom post Ariel Winter shared via Snapchat.
Like, I don't know if y'all are ready for this, but you need to check out this woman's incredibly sexy snap!
Uh, I think the only word to describe this photo is seductive.
According to Entertainment Tonight, this was actually the second time this week Ariel Winter flashed the goods for the camera.
Tuesday, the 19-year-old showed some serious skin on the red carpet at the Vanity Fair and L'Oreal Paris Toast to Young Hollywood.
Speaking about her appetite for posting sexy photos and whatever the hell she pleases on social media, Winter told ET,
I'm not going to fight with someone on my Instagram that tells me they don't like my outfit or I should put my butt awaY. I'm sorry you think I should put my butt away, but just unfollow me.
The "Modern Family" star also opened up about where her confidence comes from. She said,
I really had the greatest opportunity to have some wonderful role models, especially Sofia Vergara. Working with a curvy beautiful woman that everybody looked up to and loved the way she looked… that was my inspiration to move forward and accept myself because that's what matters.
Keep doing you, Ariel Winter.
Citations: Ariel Winter Sports Skintight Minidress, Over-the-Knee Boots During Sexy Dinner Outing: Pic! (Entertainment Tonight)