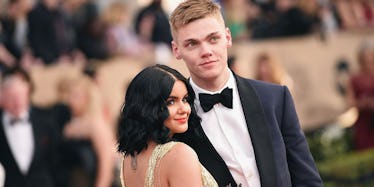 Ariel Winter Slams Magazine For "Fake News" About Her Relationship With Levi Meaden
Alberto E. Rodriguez/Getty Images
Wow, wow, wow, world. Let's leave Ariel Winter alone, shall we?
The 19-year-old star of Modern Family has spent the bulk of her career defending haters and rolling with unfair punches, and once again she has taken to social media to stand up for herself.
I'd say, "this time it's personal," but it's always been personal. However, this time they're coming after her boyfriend, and trust me when I say she is not having it.
According to Cosmopolitan, a magazine called Star Magazine ran a recent story regarding Winter's relationship with boyfriend Levi Meaden, making some pretty insane and big accusations. In the article, they insinuate Meaden is not in fact her boyfriend, but rather her paid personal assistant.
Ugh, what are we DOING, guys?
Using her Instagram to defend herself as she has done in the past, Ariel posted the following message:
Star Magazine is OBVIOUSLY a non reputable source and a trash magazine, but seriously how dare you make up stuff that you have no idea about? I have a BOYFRIEND and a PERSONAL ASSISTANT who are NOT the same person. I would NEVER pay my boyfriend ANY sort of allowance, nor would he EVER accept if I offered. He BUYS his own stuff whether it's for me or for himself, and he more than pulls his weight for our life. I HATE fake news, but I guess that's what our world has come to. Get your shit straight. I don't support anyone, and I don't need anyone to support me. He's got a full career (including something huge that's new) and works hard for it. He's not just someone's boyfriend. So if you don't know us, don't comment. Xoxo
Yes, girl.
Ariel Winter has been incredibly candid about her love for Levi Meaden, recently getting matching tattoos and gushing about him on late-night television.
The actress has made it very clear she doesn't care what anyone else thinks, so do not come for her, and certainly DO NOT come for her boyfriend.
Seriously, guys. Stop it.