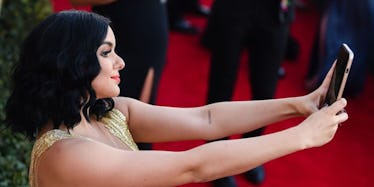 Ariel Winter And Her Boyfriend Show Major PDA In Steamy Video On Memorial Day
Emma McIntyre/Getty Images for TNT
How did you guys spend your Memorial Day weekend this year?
Maybe sleeping in late, nursing Bud Light Lime hangovers? Maybe you took the long weekend to eat a hot dog and binge watch a Netflix original series? Maybe you legit just napped by a pool the whole time.
Not Ariel Winter. Ariel Winter got hot and steamy in a white thong bikini with her boyfriend, Levi Meaden, and she snapped it for the whole world to see.
She started off by posting a few sexy photos with the caption, "Happy #MemorialDay."
And here she is looking whimsical by some rocks.
Oh, and here she is getting her butt slapped by her boyfriend and some (can we say creepy?) guy in the background.
Look, I am not here to judge, but even if I were, Ariel would have none of that sh*t.
The 19-year-old actress has been extremely vocal about her online appearance and some of the hate she has caught because of it. Ariel recently gram'd a response to some criticism she caught about one of her red carpet outfits.
She wrote,
Why TF does anyone care that I didn't dress casual like everyone else for the panel? Why do I have to be like everyone else? Why can't people just let other people feel good about themselves and do what they want? WEAR WHATEVER YOU WANT PEOPLE! As long as you feel good about yourself that's what matters. I know I did. Don't ever let anyone stifle who you are and how you express yourself. Rant over.
She also told Jimmy Kimmel in a recent trip to Jimmy Kimmel Live! how happy she is living with Levi, who is 29 years old and a decade her senior, in her new first home.
The point is, back off haters. Ariel is killing it and doesn't care what you think.