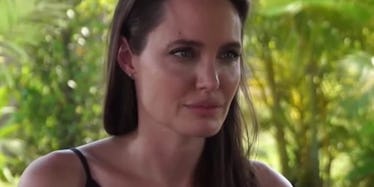 Video Of Angelina Jolie Speaking About Divorce From Brad Pitt Is Heartbreaking
BBC
It's been five months since Angelina Jolie ended her marriage to Brad Pitt in one of the most highly publicized celebrity breakups of the year.
Now, in a filmed interview with BBC's Yalda Hakim, the 41-year-old actress and director has finally opened up about how the split affected her and her family.
Though we've seen several official statements from both Jolie and Pitt regarding the couple's divorce, this is the first time Angelina Jolie has spoken about the split publicly.
The divorce is clearly still difficult for Jolie to discuss, and the actress takes a moment to collect herself before responding when Hakim tentatively broaches the issue.
Jolie said, with emotion thick in her voice,
I don't really want to say much about that, except to say that it was a very difficult time. We are a family, and we will always be a family. And we will get through this time and we will be a stronger family.
When pressed by Hakim to share how she's been coping, Jolie continued,
Many, many people find themselves in this situation. My whole family — we've all been through a difficult time. My focus is my children, our children. And my focus is finding this way through. As I said, we are and forever will be a family. That is how I'm coping, I'm coping with finding a way through to make sure that this somehow makes us stronger and closer.
To the public eye, Jolie and Pitt's divorce appeared complicated, messy and anything but amicable.
Leaked legal documents in December revealed the couple's temporary custody agreement required Pitt to jump through a series of hoops to see their six adopted children, including monitored visits, group therapy and drug testing.
In October, Pitt faced child abuse accusations (which he was later cleared of), after footage reportedly surfaced of Pitt aggressively arguing with his son Maddox at Minnesota's Falls International Airport. The footage was never released to the public.
Last month, it was revealed Pitt and Jolie were arguing via court documents over how private to keep the proceedings, with Pitt accusing Jolie of violating their children's privacy by filing public documents. Jolie denied these accusations.
So, as Jolie said in her BBC interview, "It's been a difficult few months."
But it does sound like both parties are committed to getting through this difficult time for the sake of their family. Last month, the couple released a joint statement vowing to "act as a united front."
Jolie certainly seems ready to focus on her family and her work, including the film she was promoting in this interview, "First They Killed My Father."
The film is based on the real-life Khmer Rouge genocide in Cambodia, which is particularly personal to Jolie, as she adopted her oldest son Maddox from Cambodia.
Nothing like a movie about genocide to put divorce in perspective.
Citations: Angelina Jolie on Cambodia, politics and a 'difficult year' (BBC)