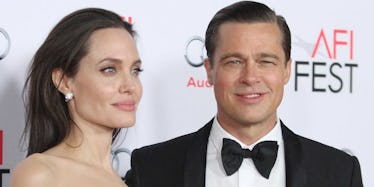 Brad Pitt And Angelina Jolie Unite To Release First Joint Statement On Divorce
REX/Shutterstock
It's been a rough few months for Brad Pitt and Angelina Jolie, but the couple has vowed to come together in their first joint statement regarding the divorce.
In light of recent publicity surrounding leaked court documents and unsealed documents filed by Angelina, the ex-couple says they are keeping all future divorce proceedings private.
The official statement from Brad and Angelina read,
The parties and their counsel have signed agreements to preserve the privacy rights of their children and family by keeping all court documents confidential and engaging a private judge to make any necessary legal decisions and to facilitate the expeditious resolution of any remaining issues. The parents are committed to act as a united front to effectuate recovery and reunification.
So... if they're a "united front," does that mean we can call them Brangelina again? Because these new couple names — like DraLo — just can't compare to the OG.
Brad Pitt has repeatedly asserted he wants to keep the divorce proceedings private for the sake of his six children with Angelina — Maddox, 15, Pax, 13, Zahara, 11, Shiloh, 10, Knox, 8, and Vivienne, 8.
Last month leaked court documents revealed Brad criticized Angelina for revealing personal information about their children in public legal documents.
Brad accused Angelina of ignoring "agreed upon standards relating to the children's best interest" and said she "exposed the children by making public the names of their therapists and other mental health professionals."
Angelina, who at the time agreed to keep all remaining divorce and custody documents sealed, denied that she shared any sensitive information and accused Brad of being "terrified that the public will learn the truth."
She wrote in legal documents,
There is little doubt that [Brad] would prefer to keep the entire case private, particularly given the detailed investigations by the Federal Bureau of Investigation and the Dept. of Children and Family Services into allegation of abuse.
The current temporary custody agreement allows Brad to see his children only with supervision present.
Phew! So things haven't been looking so "united" between the two actors as of late.
Hopefully, they will get this all sorted out soon. And presuming they both keep their promise, we won't hear much about it.
Citations: Angelina Jolie and Brad Pitt Reach Agreement to Handle Divorce Privately: We're 'Committed to Act as a United Front' (People), Brad Pitt and Angelina Jolie release first joint statement agreeing to seal divorce documents (CNN)