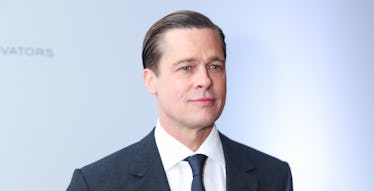 Brad Pitt Faces New Child Abuse Accusations After FBI Interviews Witnesses
REX/Shuterstock
Brad Pitt has been under investigation for child abuse since his split from Angelina Jolie, but now the actor is facing new accusations.
Jolie filed for divorce against Pitt following an incident that took place on a flight home from France with his children on September 14.
Footage reportedly shows the father violently arguing with Maddox, his teenage son.
The investigation was supposed to be over by the end of the month, but the Los Angeles County Department of Children and Family Services has extended its investigation because of new "key accusations."
The 52-year-old actor has now been accused of verbally abusing his children on multiple occasions.
Investigators are looking into speaking with witnesses to learn more about any concerning behavior of Brad's.
A source told In Touch,
Now DCFS is interviewing many people to determine if they are witnesses to any improper behavior by Brad, as well as searching for others who have knowledge of his actions. That includes nannies, household staff members and more.
The FBI has already conducted interviews with Angelina Jolie and some of their children, in addition to interviewing the crew on the plane where the fight between Brad and Maddox began.
According to the source, the FBI hopes to conclude the case after interviewing some more witnesses about the new accusations.
If the FBI believes there is probable cause of child abuse, it'll pass the report over to the US District Attorney to review the evidence and decide if Brad should be prosecuted.
Currently, Brad Pitt is part of a voluntary parenting plan where he receives counseling and has limited visitation hours with his children.
He's also taken two drug tests, which have both come back negative.
The father recently had an emotional reunion with his kids, but 15-year-old Maddox Jolie-Pitt didn't show.
According to Us Weekly, the child "chose not to go and stayed with Angie."
It wasn't until last week the two reunited for the first time since the fight on the plane while meeting with a therapist.
In terms of what's next for this family, Angelina Jolie hopes Brad will be able to co-parent with her, but for now she'll have sole custody of their children.
Citations: Brad Pitt Child Abuse (Daily Mail), Brad Pitt Child Abuse Allegations (E Online)