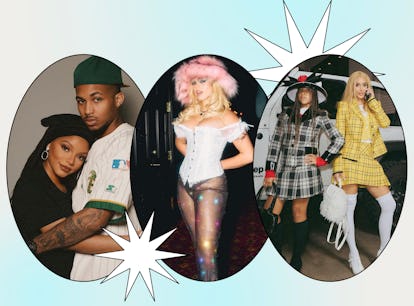 The '90s Are Back This Halloween, & These Celeb Costumes Proved It
Oh my God, I'm totally buggin'!
This year's Halloween was a true time warp. In 2023, celebs shooed away the traditional monsters and ghouls and instead embraced pop culture nostalgia. As more and more superstars began sharing their costumes, it became clear that the hottest trend for Halloween 2023 was throwing it back to the '90s.
Maybe it's all the juicy details from Britney Spears' memoir or Madonna's career-defining tour, but the love for '90s pop culture was definitely in the air this Halloween. All of the most popular costumes in 2023 seemed to be inspired by '90s movies, TV shows, video games, and celebrity moments. From Kim Kardashian and her daughter North West recreating iconic Clueless fashions, to Halle Bailey and her boyfriend DDG channelling another famous couple from decades past, the '90s references were taking over this year.
So get ready to take a trip through time, because 2023 gave us so many instantly iconic costumes that will make you want to rewatch your favorite childhood movies and shows ASAP. Here are the best of the best when it comes to this year's stylishly nostalgic Halloween costumes.
Kim Kardashian & North West as Cher & Dionne
Wearing some boring old Halloween costume? Ugh, as if! Kardashians introduced her daughter North West to one of the most fashionable '90s movies ever with some spot-on Clueless looks. Obviously, the mother-daughter duo chose the film's most memorable outfits: the matching plaid blazers and skirts that Cher and Dionne wore in the opening scene.
Reneé Rapp as Pamela Anderson
Pamela Anderson's story has had a major comeback in recent years thanks to a buzzy Hulu series and her tell-all Netflix documentary, so Rapp was totally on trend when she recreated one of Anderson's most iconic '90s looks. The Mean Girls star brought Anderson's 1999 VMAs look to life, complete with the perfectly fluffy pink hat.
Charli D'Amelio & Landon Barker as Romeo & Juliet
The D'Amelios and the Barkers are definitely two powerful families, but thankfully they don't have an ages-old feud like the Capulets and Montagues. Charli D'Amelio and boyfriend Landon Barker went all-in on swoony romance by recreating Leonardo DiCaprio and Claire Danes' party looks from 1996's Romeo + Juliet.
Halle Bailey & DDG as Janet Jackson & Tupac
Instead of focusing on all the social media drama, Halle Bailey and DDG showed just how strong their relationship is by dressing up as the ultimate musical power couple of the '90s. Bailey dressed as Janet Jackson's Poetic Justice character Justice, with DDG completing the couple's costume as Tupac's character Lucky.
Ariana Grande & Liz Gillies as Nomi Malone & Cristal Connors
Leave it to the theatre girlies to truly go all out for Halloween. Grande reunited with her Victorious co-star Gillies to dress up as Nomi Malone and Cristal Connors from the cult classic 1995 movie Showgirls. They even recreated one of the film's most deliriously unhinged scenes on TikTok, with Gillies fully in character as veteran showgirl Cristal taunting Grande's newbie Nomi over lunch.
Hailey Bieber as Rachel Green
Bieber is known to rock multiple costumes each Halloween, and she did it again this year with a Carmen Electra look as well as a Flintstones couple's costume with hubby Justin Bieber. And of course, she also had to show her love for the '90s, dressing up as Rachel from Friends.
Adele as Morticia Addams
Leave it to Adele to choose the most glamorous '90s Halloween icon of all. Although Morticia Addams has existed since the '60s, Adele's look seems clearly inspired by Anjelica Huston's portrayal in the Addams Family movies of the '90s.
Alix Earle as Madonna
Alix Earle is known for turning looks on TikTok, but she totally outdid herself this Halloween. The influencer paid tribute to Madonna's iconic cone bra, which she wore throughout her Blonde Ambition Tour in 1990.
Kate Beckinsale as Anna Nicole Smith
Kate Beckinsale knows a thing or two about the age gap discourse that has surrounded her past relationships. She poked fun at the chatter in a hilarious way, enlisting her friend to help her recreate Anna Nicole Smith's infamous 1994 wedding to 89-year-old billionaire J. Howard Marshall.
Lori Harvey as Lara Croft
Lori Harvey made her Halloween night a true adventure. She dressed up as everyone's favorite pixelated '90s explorer Lara Croft from the Tomb Raider games.
Cole Sprouse as Leon S. Kennedy
Harvey wasn't the only '90s kid who grew up loving video games. Cole Sprouse ventured into Halloween night dressed as the Resident Evil character Leon S. Kennedy, who was introduced into the survival horror games in 1998.
Saweetie as Edward Scissorhands
Saweetie had to be extra careful when she tapped in on Halloween. The rapper sliced and diced in a blinged-out Edward Scissorhands costume.
Joey King as Madman Mundt
Joey King definitely wins the most unexpected costume of the year — I mean, unless you somehow guessed she was going to dress as a John Goodman character from a cult '90s thriller. King let out her inner film nerd by channeling Madman Mundt, the ominous serial murderer in the 1991 Coen Brothers movie Barton Fink. The couple's costume was completed by King's husband Steven Piet, who dressed as the movie's title character.