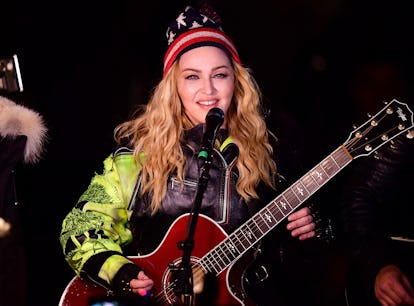 Madonna Praises Her Kids For Their Support After Recent Health Scare
Her children's love is "the best medicine."
James Devaney/GC Images/Getty Images
Madonna is in a reflective mood. The singer hasn't been shy in offering updates about her health lately, as it took a slight decline last month following a "serious bacterial infection." Since her release from the hospital on June 28, she seems to be in good spirits. And according to Madonna, her road to recovery has been promising thanks to her friends and family. On July 30, the Madame X star reflected on the love her support team has given her on Instagram, and it features a rare photo of her two eldest kids.
"Love from family and friends is the best medicine," Madonna began the post, which includes two photos of her posed with 26-year-old daughter Lourdes Leon and 17-year-old son David Banda. While she only featured them two, she seemed to praise all six of her children for being by her side after her health scare. "As a mother, you can really get caught up in the needs of your children and the seemingly endless giving. But when the chips were down, my children really showed up for me."
Madonna continued, explaining she saw a side of her kids she'd "never seen before" and their attentiveness has "made all the difference" during her recovery. As for her other children, she shares son Rocco Ritchie, 22, with ex-husband and director Guy Ritchie. Then, similar to David, her three other children — 17-year-old daughter Mercy and 10-year-old twins Stella and Estere — are adopted.
In her Instagram post, the "Vogue" icon shared the support expanded beyond her children. She thanked her manager Guy Oseary, who confirmed the news of her medical scare, for gifting her a photo of her three favorite creatives. The present (which Madonna can be seen holding in the post) is an Andy Warhol portrait of graffiti artist, Keith Haring, wearing a jacket with Michael Jackson's face plastered on the back.
"[This is] a perfect triangle of brilliance. Artist[s] who touched so many lives including my own," she wrote, adding this gift reminded her of how serious her health scare was. "I sobbed when I opened this gift because I realized how lucky I am to be alive. And how fortunate I am to have known these people and so many others who are also gone."
On June 28, Oseary announced the singer had been in the ICU for four days, but that a "full recovery was expected." He also noted she would have to pause all her upcoming projects, including her Celebration tour that was slated to start in July. Madonna echoed this cancellation in a statement on July 10, and revealed the tour — a more than 80-date tribute to the 40th anniversary of her career — will now be postponed to October of this year.
This rescheduling will allow the singer to properly rest and rebuild for the shows, an act that Madonna seems grateful for. To end her Instagram note, she wrote, "Thank you to all my angels who protected me and let me stay to finish doing my work!"