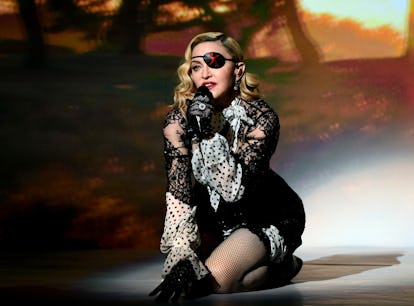 Madonna Shared She's "On The Road To Recovery" After Being Hospitalized
"I couldn't be more grateful for your care and support."
Kevin Mazur/Getty Images Entertainment/Getty Images
Madonna has broken her silence following her health scare. On July 10, the pop star released her first statement since she was hospitalized for a serious bacterial infection last month. In an Instagram post, Madonna thanked her fans for their prayers and shared that she's prioritizing her health.
"Thank you for your positive energy, prayers, and words of healing and encouragement. I have felt your love," Madonna began the statement, which also features a selfie of her in the second slide. It's not clear whether this picture of the singer is recent; however, her lengthy note reflects her current mindset as she navigates her health. "I'm on the road to recovery and incredibly grateful for all the blessings in my life."
On June 28, Madonna's manager Guy Oseary revealed she spent several days in the intensive care unit. At the time, he noted her "health was improving," but she was still under medical care as she fully recovered. According to Page Six, the Music singer was intubated for at least one night with her daughter Lourdes Leon by her side. After her tube was removed, she reportedly left the ICU.
Due to her medical scare, Oseary explained Madonna was forced to pause all her upcoming projects, including her highly-anticipated Celebration tour. These slate of live shows — which was set to kick off in Vancouver on July 15 — was meant to honor the 40th anniversary of the singer's career. The singer was scheduled to visit more than 80 dates across the U.S. and the U.K. throughout 2024, which would've been her longest tour to date.
In her recent note, Madonna shared her thoughts on the tour. She said she "did not want to disappoint anyone who bought tickets for the tour" or those who worked to bring the live spectacle to life. However, in order to properly prepare, the Hard Candy star confirmed she's rescheduling dates in North America and will start the European leg of her tour in October 2023.
Live Nation echoed the announcement, reassuring those who purchased tickets for the postponed dates will "still be valid for the new dates once announced," per Variety.
Madonna ended the note with a gracious message about her health. "My focus now is my health and getting stronger and I assure you, I'll be back with you as soon as I can. I couldn't be more grateful for your care and support."