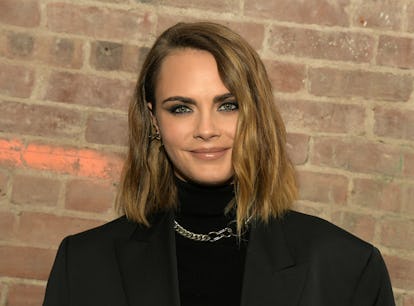 Cara Delevingne's Quote About Taylor & Travis Dating Is Revealing
The Swift squad has spoken.
WWD/Getty Images
Apparently, Cara Delevingne is a fan of Taylor Swift and Travis Kelce's growing romance. As one of Swift's BFFs (and a core squad member), Delevingne has been close with the "Karma" singer since 2013. In that time, she's seen Swift through a range of relationships and breakups (including Calvin Harris in 2016 and Joe Alwyn in 2023). And according to Delevingne, she's noticed something special about Swift's romance this time around.
"I'm so, so happy for her," Delevingne told E! at the 2023 Las Vegas Grand Prix on Nov. 18. "There's definitely something very different about them." She added, "I'm always rooting for my girl."
Swift and Kelce have been publicly seeing each other since late September, and Kelce has already done an interview about the 'ship. On Nov. 20, he told the Wall Street Journal that being with Swift is "f*cking mind-blowing." Such a public romance is not typical for the singer, but it seems like she is on board — and so is her star-studded posse.
Delevingne wasn't the only member of Swift's friend group to speak out in support of the romance. Gigi Hadid made her feelings about Swift and Kelce's romance clear on Nov. 14 after Us Weekly cited an anonymous source saying the opposite. "She feels like Taylor is doing too much, too soon," an insider said at the time, claiming that was why Hadid hadn't been at any Chiefs games.
"I'm a couple days late to this tag.. but didn't the press try this last week w Selena?" Hadid responded to the claims. (On Oct. 30, Page Six made similar claims about Selena Gomez.) Hadid clarified, "Let it be.. we are all over the moon for our girl. Period." Apparently, Delevingne is included in that "we."
Like Hadid, Delevingne has skipped out on Kelce's football games, but they all had an NYC girls' night out with the other Chiefs WAGs on Nov. 4. The group — including Swift, Delevingne, Hadid, Gomez, Brittany Mahomes, Sophie Turner, Paige Buechele, and Lyndsay Bell — went to Bond St for sushi before heading to Zero Bond, a private members club.
Swift might be expanding her squad these days to include more WAGS, but Delevingne has been around for the long haul. The duo first connected in 2013 when Swift performed at the Victoria's Secret Fashion Show, where Delevingne was a model.
Since then, Delevingne has been a consistent figure in Swift's inner circle, making an appearance in the "Bad Blood" music video in 2015 and defending Swift over the Scooter Braun situation in 2019. She was also there to support Swift on the opening night of her Eras Tour in March. It only makes sense that the model would be there to cheer on this part of Swift's life, too.