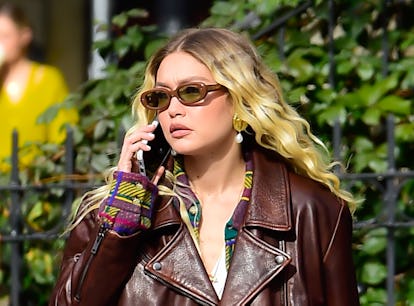 Gigi Hadid Made It *Very* Clear That She's Team Traylor
Raymond Hall/GC Images/Getty Images
Gigi Hadid is setting the record straight. Shortly after reports came out that the supermodel disapproved of Taylor Swift's relationship with Travis Kelce, Hadid took to Instagram to make her true feelings known. And she also fired back at similar rumors about her friend Selena Gomez.
The whole drama started on Nov. 9, when Us Weekly cited an unnamed source claiming Hadid was avoiding joining Swift at a football game because she "doesn't agree" with how her friend's been behaving since dating Kelce.
"One of the reasons Gigi hasn't attended any of Travis' games is because she doesn't agree with the way Taylor has been acting with [him]," Us Weekly reported. "She feels like Taylor is doing too much, too soon."
The messaging closely echoed another anonymous report from a week and a half prior, when Page Six quoted an unnamed source claiming Selena Gomez thought Swift was "moving too fast" with Kelce and behaving "unlike her[self]."
But Hadid shut this whole narrative down once she caught wind of it. She took to the comments section of an IG post about the rumors, and confirmed both she and Gomez are nothing but happy for Swift's new romance.
"I'm a couple days late to this tag.. but didn't the press try this last week w Selena?" Hadid wrote. "Let it be.. we are all over the moon for our girl. Period."
While it's true Hadid and Gomez haven't yet had the chance to join Swift at a Kansas City Chiefs game, the OG squad members are still super close with Swift. In fact, they were just hanging out with her on Nov. 4, when they joined Swift for a star-studded night out with Cara Delevingne, Sophie Turner, and Brittany Mahomes.
Hadid was also supporting Swift during her breakup with Joe Alwyn earlier this year. Shortly after the split, Swift was spotted hanging out with Hadid, and social media sleuths noticed that Hadid no longer followed Alwyn on Instagram.
As one of the most long-lasting and central members of Swift's squad, it's clear nothing is going to come between Hadid and her bestie.