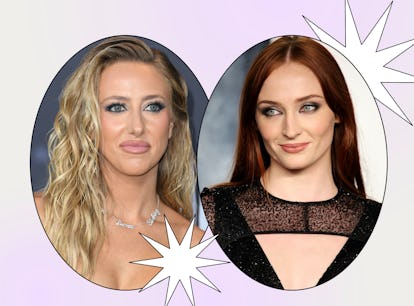 Brittany Mahomes Wants To Be Sophie Turner's "Matchmaker"
*Googles single Chiefs players*
Amid her divorce from Joe Jonas, Sophie Turner has a lot of people in her corner. Not only has the Game Of Thrones actor joined Taylor Swift's squad with the likes of Selena Gomez and Blake Lively, but she's also won over Brittany Mahomes, wife of Chiefs quarterback Patrick Mahomes — and apparently, she's eager to help Turner find a new love interest.
"Brittany knows Sophie is newly single and has hung [out] with her before when Sophie attended one of the [Kansas City Chiefs] games," a source told Us Weekly on Nov. 7. "She would love to help play matchmaker."
Per the insider, Mahomes considers Turner a "doll" and "would love to set her up" with one of her husband and Travis Kelce's friends — potentially another Chiefs player? The team has been recruiting plenty of it girls to watch their recent games.
Mahomes' "matchmaker" hopes aren't completely out of left field. When she was in New York City to watch the Nov. 6 Chiefs game with Swift, they went out on the town with Turner: first heading to Bond St. for sushi and then going to Zero Bond, a private members club. (Selena Gomez and Gigi Hadid were also in attendance, NBD.)
This wasn't the first time Mahomes and Turner had interacted. On Oct. 1, they attended the Chiefs and Jets game together in East Rutherford, New Jersey. The night before, per People, Mahomes, Turner, Swift, and Lively ate together at Emilio's Ballato in New York City and stayed out until the early hours of the morning. BTW, Emilio's is Joe Jonas' favorite restaurant in the city — so, potentially some tea was spilled over pasta?
Since Turner announced her divorce from Jonas on Sept. 6, she's been spending more and more time with Swift. (Swift even repotedly loaned Turner her Tribeca apartment, so she had a place to stay in the city while working out her and Jonas' custody dispute.)
Even before Turner and Jonas called it quits, the Queen of the North was a Swift stan. Back in April 2021, she called Swift's vault track "Mr. Perfectly Fine," which was presumably written around Jonas, "not NOT a bop."