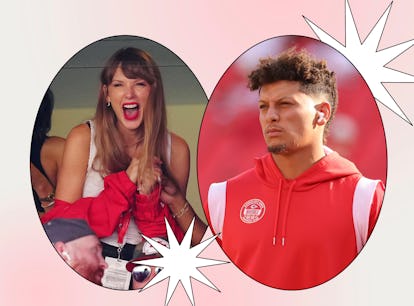 Patrick Mahomes Doesn't Think Taylor's A "Distraction" For The Chiefs
Jason Hanna/Getty Images Entertainment/Getty Images Icon Sportswire/Icon Sportswire/Getty Images
Patrick Mahomes has entered his Swiftie era. Since Taylor Swift and Travis Kelce have gone public with their relationship (several times over, if you count all of those Chiefs games), there's been a lot of talk about Swift taking over the NFL. However, the Chiefs quarterback doesn't think the singer coming to the games is a bad thing — and it doesn't affect the team too much (even if Kelce's a statistically better player with her in the audience).
During a Nov. 18 interview with ESPN, Mahomes said that Swift wasn't a "distraction" for the team since "everybody cares about being the best they can be every day," regardless of who is watching from the stands.
"I don't think it feels any different," he said, per Page Six. "People see the whole Taylor Swift and Travis [thing] and they make it a huge deal because it is a huge deal. I think it becomes a bigger deal to the fanbases than it does to the guys who are actually in the building."
He added that he had "been lucky enough to meet Taylor and see how good of a person she is." He might even travel to Europe to catch her Eras Tour overseas once she starts her European leg in May 2024.
Mahomes has previously praised Swift. After meeting her on Sept. 24, following the Chiefs' victory over the Bears, he said in a Sept. 27 press conference, "Yeah, I met her, she's really cool, good people." He continued, "But like Trav said, man, I'm going to let them have their privacy and just keep it moving." (ICYMI, on a Sept. 27 episode of his New Heights podcast, Kelce emphasized how he wanted to keep his "personal life" private, especially considering how Swift avoids speaking to the media.)
The Chiefs quarterback also commented on Swift's attendance at the Sept. 24 game in a post-game interview on the field. Mahomes told a reporter, per Page Six, "I heard that she was in the house. I felt a little bit of pressure."
He explained that he wanted to make sure Kelce looked good for the superstar. "I knew I had to get [the ball] to Trav. He does his own thing and just makes up a route and I throw it to him. I think he wanted to get in the end zone as much as all the Swifties wanted him to," Mahomes — who set a new standard for wingmen everywhere — added.
Mahomes' wife Brittany is also a fan of the singer. They've sat together at several games (and even did a secret handshake at one point). She has also been been spotted out a few times with Swift's girl squad, grabbing dinner in New York City in October and November.
This article was originally published on