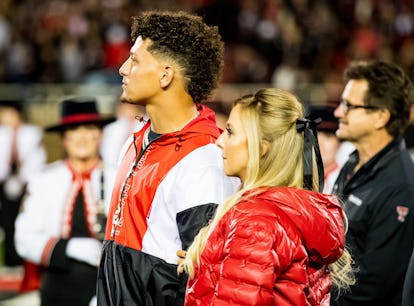 Patrick Mahomes' Wife Brittany Reacted To His AFC Championship Win
The Kansas City Chiefs are headed to the Super Bowl.
John E. Moore III/Getty Images Sport/Getty Images
Though it was a close game, the Kansas City Chiefs beat the Cincinnati Bengals by three points on Jan. 29, taking them to the 2023 Super Bowl. Plenty of Chiefs fans are celebrating the win, including quarterback Patrick Mahomes' wife Brittany. On game day, Brittany was posting regular updates on her IG story, and she didn't hold back.
At one point, Brittany — along with plenty of Chiefs fans — screamed, "Let's go!" She kept the excitement going, and even featured Patrick's father for a short clip, where he said, "That's my godd*mn son." When the Chiefs pulled ahead of the Bengals and won the game, Brittany wrote, "SUPER BOWL HERE WE COME!!" She added to their toddler Sterling, "Your daddy just won the game."
However, per Us Weekly, Brittany's posts weren't all happy. "All right, this sh*t is getting out-of-control," she wrote on Twitter before adding, "BULL💩." (But it's unclear what she was criticizing.) Although Patrick didn't repost any of his wife's stories, he did share a photo of them kissing at the game on Jan. 30.
Brittany has already supported Patrick through two Super Bowls (including one Super Bowl win), so it's no surprise she was there to cheer him on at the AFC Championship game.
Patrick and Brittany have been dating since 2012. They were high school sweethearts who stayed together throughout college and long-distance dating. In 2020, they bought a home in Kansas City. "Setting down roots in Kansas City was huge for us," Patrick told Bleacher Report at the time. "I think the people are what we love the most about Kansas City. We're trying to be here for a long, long time."
Since then, their family has grown (as have their roots in KC). Patrick and Brittany welcomed their first child, Sterling, in February 2021, got married in March 2022, and welcomed their second child, Patrick "Bronze," in November 2022.
Patrick and the Chiefs will be playing the Philadelphia Eagles at the Super Bowl on Sunday, Feb. 12 in Phoenix, Arizona.