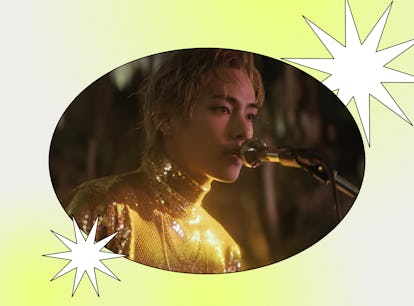 BTS' V Is A Golden Lover Boy In His "Love Me Again" Music Video
"I think about you all the time / Where you are, who you're with."
YouTube/@HYBELABELS
BTS' fanbase is staying well-fed with new music this year. Within the last few months, members such as Jimin, SUGA (alongside his alter ego Agust D), and Jungkook have kicked off their solo eras. And now, V — also known as Kim Tae-hyung — is next on the docket. Recently, the group's label BigHit announced V's debut album, Layover, will drop on Aug. 8. Now, the singer has offered a taste of the album with his single "Love Me Again," and it's a slow-burn dream.
On Aug. 9, V released a music video for the forlorn track. The video eases in with the singer cooing into a mic, his buttery vocals echoing throughout a golden-lit cave. With the assistance of a faint guitar and R&B-inspired harmonies, V reflects on a past relationship he can't to let go of. And while it appears his partner has moved on, he's seemingly stuck in a loop of memories that made their romance a fascinating one.
"Fine, I will be honest with you / Put it all out there / I think about you all the time / Where you are, who you're with / Lost without you, baby," he croons, his eyes wavering to the camera.
The pacing on "Love Me Again" echoes BigHit's description of V's "low pitch voice" easily mixing with soulful production. The use of his deeper register is necessary for this arrangement, as it leaves room for his warm falsettos to shine in the pre-chorus.
This drop comes one day after BigHit shared a short visualizer of V's album on Twitter. The 17-second clip sees a flying box being delivered to someone's door. Once it falls to the floor, numerous other boxes (which features a 'layover' sticker and several photos of V) fill the hallway until the screen goes black. This teaser seems to nod that the singer's solo was long overdue. However, by the sound of its reported production, it appears the wait might be worth it.
In a press release, the label revealed V's in his pop-R&B bag. Layover will feature six tracks: "Rainy Days," "Blue," the aforementioned "Love Me Again," "Slow Dancing" with a bonus piano version, and "For Us." Similar to his latest single, this genre blend will also appear on "For Us."
V reportedly worked with NewJeans' creative director Hee Jin Min on Layover. Similar to the girl group, the BTS member will release a music video for each track on the album. This news comes a year after V teased the release of his mixtape. In March 2022, the K-pop star hinted his untitled project would drop that same year. However, the year came and went, and V never released a body of work. There's a chance the tracks on Layover were originally written for that mixtape, as the singer shared the axed record was jazz-inspired.
This album announcement also follows another update on BTS' hiatus. BigHit revealed SUGA recently began his military enlistment process, making him the third member of the group to start his mandatory service. So far, Jin and J-Hope have started their 18-month enlistment, which is the standard length in South Korea. Despite the somber news of SUGA's enrollment, fans are still gearing up for V's solo era.
By these reactions, it seems this month-layover is one ARMYs wouldn't mind sitting through. Check out out details about V's Layover, below.
Layover's Due Date
V's debut album will release on Sept. 8, 2023.
Pre-Order Info For Layover
According to BigHit's official Twitter account, fans can now pre-order Layover on BTS' Global WeVerse shop.
Layover's Teasers & Music Videos
On Aug. 9, V kicked off his six music video streak with "Love Me Again."
Layover's Tracklist
V's mini-album will feature six tracks, including a piano version of "Slow Dancing."
"Rainy Days"
"Blue"
"Love Me Again"
"Slow Dancing"
"For Us"
"Slow Dancing (Piano Ver.)"
This article was originally published on