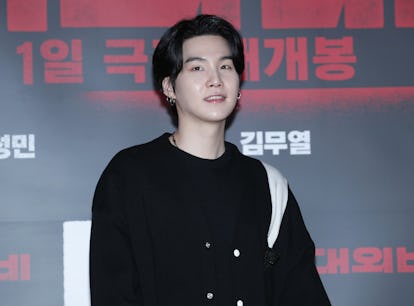 BTS' Suga Is The Next Member To Begin His Military Enlistment
"We will meet again in 2025."
Han Myung-Gu/WireImage/Getty Images
It's been an overwhelming year for the ARMYs. Though on hiatus, BTS has kept the growing fandom well-fed with their solo projects. From Jimin's falsetto-clad Face to V's latest roster of singles, each member's time in the spotlight has been a sonic gift. However, these eras have been bittersweet, as this will be the last time fans will hear music from BTS for a while. The singers are steadily beginning their mandatory military service, and according to their label, Suga is next on the docket.
On Sept. 17, BigHit Music shared the announcement on Weverse, a fan community platform for K-pop groups. "Suga will be beginning his required service on September 22. There will not be any official events taking place on the day he starts his service or on the day he enters the training camp," the label wrote. "We kindly ask fans to refrain from visiting Suga at his workplace during the period of his service. Please convey your warm regards and encouragement in your hearts only."
BigHit ended the notice by asking fans to send Suga their "love and support." Shortly after the announcement, Suga went live on WeVerse to share a message to the ARMYs. A fan translated various clips on Twitter, and each one sees the rapper lightheartedly addressing his soon-to-be absence.
In the TikTok he adds, "[My enlistment] is not something to cry about. I also feel that it's a pity that I will not be able to do anything in the next two years. But we will meet again in 2025." BRB, currently sobbing.
Suga is the third member to prepare for military service, following Jin's enlistment in December 2022 and J-Hope's in April of this year. His upcoming leave is one fans anticipated, as BigHit Music officially announced the group will go on hiatus to allow each member to complete their service last fall. In South Korea, men between 18 and 28 must serve two years in the military. As the "That That" star noted in his video, BTS is slated to reunite in 2025.
Similar to the already enlisted members, Suga's beginning his service on the heels of a successful era. For his solo endeavor, the rapper brought his underground alter-ego, Agust D, out of a nearly three-year retirement. He last rocked the moniker on his 2020 D-2 mixtape, a 10-track spectacle filled punchy one-liners and brazen beats. Suga carried that thrilling energy on his new D-Day album and its supporting tour, which wrapped on Sept. 6 in South Korea.
If Suga's touching video proves anything, it's that ARMYs are in for one special reunion in the next two years.