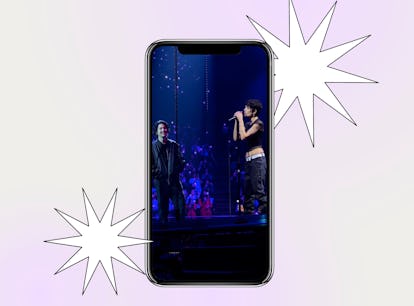 ARMYs Can't Deal With Halsey's Surprise Appearance On Suga's Tour
"The way he smiles at Halsey? Please."
Twitter/@serendiptaetae
Welcome to Suga's riveting universe. In late April, the rapper kicked off his solo tour, D-Day. The anticipation for this tour has been as fiery as Suga's lyrical delivery, largely because this is his first solo event since BTS announced their hiatus last year. The star has shown he can hold his own on stage, unveiling his artistry as an idol and underground rapper (Agust D) through roaring energy and pyrotechnics galore. Even with this new creative independence, he's not afraid to share the spotlight with his collaborators, including Halsey.
On May 14, Halsey — who uses both she and they pronouns — made a surprise appearance during Suga's concert in Los Angeles. While there, the duo sang their duet "Suga's Interlude," which appeared on Halsey's 2020 album Manic. Her sudden attendance sent ARMYs into a frenzy, especially because both singers never performed the ballad live before.
As seen in this video, the lights lowered to a purple hue as the track's opening piano chords spurred in. The crowd was already delighted by the familiar opener; however, it wasn't until Halsey walked onstage that the audience's screams went up a few notches. She then sang her verse from the broody track, which sees her recognizing that chasing her dreams comes with a bit of sacrifice.
"I've been trying all my life to separate the time / In between the having it all and giving it up, yeah / I wonder what's in store, if I don't love it anymore / Stuck between the having it all and giving it up, yeah," Halsey sang, before Suga eased in with his reflective rap verses.
After their performance, the two friends then recalled the last time they were on stage together in 2019. At the time, BTS was on their Love Yourself tour and welcomed Halsey as a surprise guest during their stop in Inglewood. Clearly, Halsey's a California gem. The Manic singer then noted the last time Suga was in Los Angeles, he came to her house. "Now, I feel like I'm in your house," she added lightheartedly, referring to the concert venue.
Suga laughed and replied, "This is my house!" OK, we love a confident performer. It wasn't long until the duo's special performance hit social media, and fans on Twitter couldn't help but fawn over their musical chemistry.
Obvs, the fans believe in SUGA and Halsey supremacy.
Some fans were in disbelief that Suga called on Halsey to suddenly perform such a raw track.
At least fans have clips on social media to reminisce.
Ugh, artists that unconditionally support other artists? Love to see it.
Suga's D-Day tour will wrap in Seoul, Korea in June 2023.