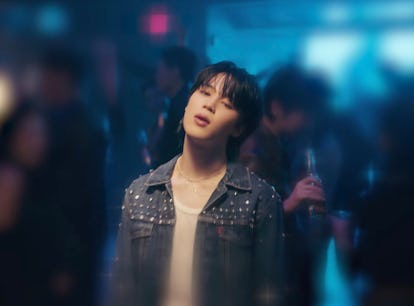 BTS' Jimin Is A Hopeless Romantic In His "Like Crazy" Music Video
His debut solo album is out now.
BIGHIT MUSIC
Jimin has officially tapped into the '80s music wave — but with a twist. On March 24, the singer released a music video for "Like Crazy," the second single from his debut solo album, Face. The hypnotic tune sees Jimin fusing pop synths from that era with a futuristic sheen, an aesthetic that sits front and center on his latest album. That experimental, almost trippy sound matches the aura of the music video, where viewers are dropped in the middle of Jimin's hazy night out at the club.
Jimin wasn't flexing when he said he's "smooth like butter," because his vocals on "Like Crazy" feels like silk. According to Rolling Stone, this track was inspired by the 2011 romance drama of the same name that stars Anton Yelchin, Felicity Jones, and Jennifer Lawrence. The film follows two characters who fall in love; however, their romance is shaken up once one has to leave and return to their hometown.
"I tried to express the feelings of that movie," Jimin told Rolling Stone in a March 24 interview. "You know, the somewhat complex, somewhat lonely, somewhat happy emotions. I tried to express all these ambiguous and subtle emotions in a slightly sexy way, but I'm not sure how it'll end up being received by people."
The visual begins with Jimin lounging in a club, a destination he spends the better half of the video in. He's seemingly in a daze, and that can be seen in how the party-goers around him are swaying in slow motion. Meanwhile, whispery dialogue from J-Law's character in the film fills the background, cooing: "I think we could last forever. Just trust me."
As Jimin croons the opener, viewers are transported to him alone at home, his body slumped over a kitchen table. There's a glint of loneliness in his eyes here, almost as if he's yearning to be with his partner. Suddenly, a hand grabs and pulls him to the packed nightclub shown at the beginning of the video. The "Set Me Free" singer maneuvers through the crowd at first, before he begins to party the night away.
There's a carefreeness zipping through the crowd that Jimin quickly latches on to, and it isn't long until that once forlorn shimmer leaves his eyes. Clearly, he's aware of the one unofficial night-out rule: 'No crying in the club.' "Give me a good ride/ I'm falling, falling falling / Oh, it's gon' be a good night, Forever you and I," he croons while taking champagne shots and crowd-surfing.
The video then splits between him in the club and posing in a dimly lit hallway. There, the walls suddenly ooze a mysterious black goo. It's not clear what the viscous dark liquid represents to Jimin; however, it subtly appears in various scenes throughout the video.
Back in the club scenery, Jimin begins to follow a mystery woman in the crowd. This could be a nod to the 2011 film and the main character's desire to keep his partner close once she leaves to return home. The clip suddenly ends with Jimin back at home, his right hand covered in the unknown black liquid from the club's hallway. There's something psychedelically intriguing yet somber about this visual. It seemed Jimin never got closure with his partner, as he was ripped from the packed party before he could speak with her. Well, at least he has memories of their romance.