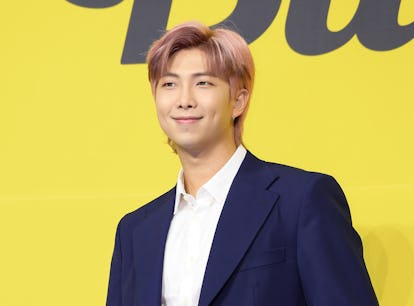 RM's Hobbies Outside Of BTS Are A Study In Peaceful Relaxation
Just reading this list will lighten your mood.
The Chosunilbo JNS/ImaZinS/Getty Images
Fans have learned a lot about BTS just by following them on social media. The group regularly updates their shared Twitter, YouTube, and Weverse accounts to let ARMYs know what they're up to during their time off. BTS only got more active online after their 2020 tour was postponed due to the coronavirus pandemic. One thing the guys have revealed about themselves through their posts is they've picked up new hobbies while in quarantine. V's show off his creative side, while Suga's are all about expanding his skill set. Meanwhile, BTS' RM's hobbies are as chill as his personality.
Since BTS is always so busy, it makes sense RM loves winding down with hobbies like reading and bike riding. When a fan asked the star what he was doing during the group's extended vacation in August 2019, RM said, "I'm Namjooning." Ever since then, fans have used the term to describe them doing quieter activities just like him. RM actually explained "Namjooning" during a December 2020 AskAnythingChat. "The act of living as Kim Namjoon. This includes taking walks through parks, admiring nature, hanging out with crabs, and having fun with friends," he said.
RM works so hard as a member of BTS, so he definitely deserves some quiet time to himself. Check out BTS' RM's hobbies below.
RM's hobbies all seem so relaxing!