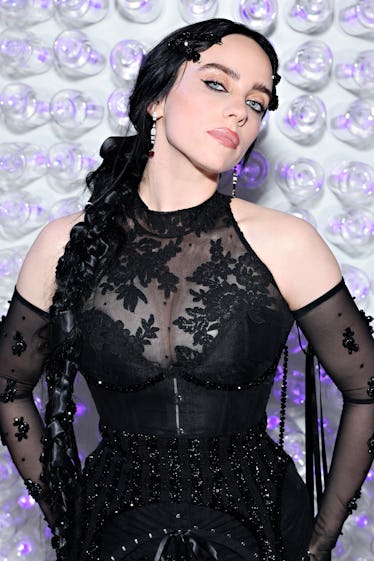 Billie Eilish Finally Responded To Lil Yachty's Lyric About Her Body
Cindy Ord/MG23/Getty Images Entertainment/Getty Images
Billie Eilish has been very open about her body image struggles. Her most powerful statement came in her 2020 spoken-word film, Not My Responsibility, where she criticized those who've body-shamed her since the beginning of her career and shared how exhausting those unwarranted comments can be. With that stance, it's understandable why fans came to her defense after Lil Yachty mentioned her breasts in a recent release. However, it seems his rap verse didn't offend her.
On "Another Late Night," a cut from Drake's Oct. 6 For All the Dogs album, Yachty raps: "She got big t*ts like Billie Eilish but she couldn't sing." This is one of many random (and honestly, shady) one-liners on the track, which sees both rappers reflecting on failed relationships.
Some listeners thought Yachty's bar was odd, considering he and Eilish have been friends since the rise of her career in 2017. The two interviewed one another a year later, and Yachty accurately predicted the singer would be a "legend" before she turned 19 — at the time, she was 16. He has continued to praise her talent in recent years, making this name-drop moment even more confusing to people.
But Eilish didn't find Yachty's bar distasteful. "I think it's fun! I'm flattered! Yachty is my friend," she said in a Nov. 13 Variety profile. "Drake is my friend. It's a joke. I do have big t*ts. I love it."
This wasn't the first time Eilish gave "Another Late Night" her stamp of approval. On Oct. 18, nearly two weeks after For All the Dogs released, the singer posted Yachty's rap in a photo carousel on Instagram. The post also included a shot of her new back tattoo, which has an abstract, sci-fi edge to it.
While Eilish didn't mind the name-drop, Yachty's verse is a reminder of how much her body has been a topic of conversation for years. The discourse hit a peak in October 2020, when a photo of the singer wearing a tank top and shorts went viral online. This outfit differed from her signature baggier style (an aesthetic she notably leaned towards to avoid rampant discussion about her body), and people online began commenting about her weight.
In the new Variety profile, Eilish reflected on that decision to wear looser clothes when she was younger. "I wasn't trying to have people not sexualize me," she said. "But I didn't want people to have access to my body, even visually. I wasn't strong enough and secure enough to show it."