Dog Pound Drama (Interlude)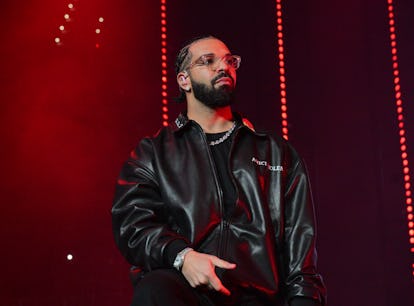 Drake's In His Most Unserious Era Yet On For All The Dogs
This has been one hell of an OVO season.
Prince Williams/WireImage/Getty Images
In Drake's book, Titles Ruin Everything, he wits: "Those guys are so burnt out, we can smell it from here." While this half-baked diss might've been for his enemies, it certainly seems like the call is coming from inside the house. The rapper has been on a packed three-year run: He became the industry's Certified Lover Boy in 2021, released two back-to-back albums that following year, and ended his joint tour with 21 Savage this month. Drake's drive is undeniably impressive, but that steam appeared to fade on his latest album, For All The Dogs.
Earlier this summer, the Toronto emcee shared in his book that For All The Dogs (which dropped on Oct. 6) would embrace his older sonic roots — a sentiment that's been following his career for over five years. However, his efforts to make a mature version of his classics, think of the self-indulgent beauty behind Take Care and Care Package, fell short on this release.
Sure, there's snippets of voicemails from frustrated girlfriends and Drake's classic rhyme-singing throughout the album — two nods of what made his earlier works so infectious. But those tokens weren't strong enough to dismiss how odd For All The Dogs is. On the all-bark-no-bite album, he uses tired flows and disjointed one-liners to dig up old drama, and those aims are intriguing yet exhausting at times.
For All The Dogs sees Drake at his most unfiltered, but at a high cost. He's an agent of chaos (which is a suitable, but unofficial name of his canine persona) on this album, and he's already provided enough shade to completely overpower the album's potential. In other words, welcome to the self-sabotaging Scorpio season.
From allegedly dissing Rihanna and A$AP Rocky to addressing old controversy, here are the messiest scandals from this era so far.