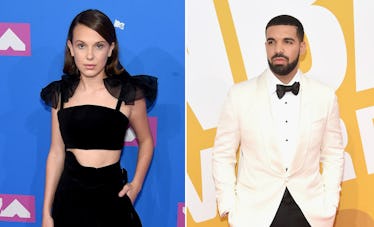 Millie Bobby Brown Clapped Back At People Calling Her Friendship With Drake Inappropriate
Jamie McCarthy/Getty Images Entertainment/Getty Images
C'mon world, why are you making Millie Bobby Brown upset? Don't you know that she is an international treasure and should be protected at all costs? Apparently, some people have yet to get the memo, and decided to question Brown's super adorable relationship with Drake, who Brown assures is strictly just a good friend. And now, Millie Bobby Brown defended her friendship with Drake and clapped back at all the haters on social media, and I am living for it.
It all started when the 14-year-old Stranger Things star revealed that she turns to 31-year-old rapper Drake for relationship advice in an interview with ExtraTV back in February 2018. According to Brown, the pair's friendship began when they met in Australia back in 2017. "We met in Australia, and he asked me to go to his show, and it was probably the best live performance I've ever seen," she said. "You think he's like Drake like, 'I know when that Hotline Bling', but he's just Drake and he's great. I have great people around me guiding me through this and he's one of them."
Then, while interviewing with Access Hollywood on the red carpet at the 2018 Emmy Awards, Brown mentioned that she and Drake stay in touch regularly. "You know, we text," then mentioned that the pair just texted each other.
Brown went on to tell Access that Drake texted her the other day saying, "I miss you so much!" And she responded "I miss you more!" adding, "he's coming to Atlanta so I'm definitely gonna go and see him. I'm so excited."
I'd imagine MBB reacting something like this at the thought of seeing her bestie again:
Cute.
One of the reporters interviewing Brown then asked what sort of advice Drake gives her. "About boys," Brown responded. "He helps me... He's wonderful. I love him."
When the reporter asked what type of relationship advice Drake had for her, she said, "You know, that stays in the text messages," while laughing. Playin' it cool, Millie. I like it.
But now, a lot of fans are taking to social media to express their thoughts on Drake and Millie Bobby Brown's friendship, speculating that Drake, who is 17 years her senior, is "grooming" the teenage star:
Elite Daily reached out to Drake's team regarding the backlash, but did not hear back by the time of publication.
Well, our girl is having none of it, you guys, and took to her Instagram Story on Thursday, Sept. 20 to defend her friendship with Drake. She wrote,
Why u gotta make a lovely friendship ur headline? U guys are weird… for real. I'm lucky to have people in the business extend their time to help me further my career and offer their wisdom and guidance. I'm very blessed to have amazing people in my life. U don't get to choose that for me
She continued, writing,
It's nice to have people who understand what I do. Now get back to talking about real problems in this world other than my friendships… jeez.
You tell 'em, Millie.
And, despite the slew of negative comments that the pair's friendship received, there are others on social media have stood up for it:
At the end of the day, if both Drake and Millie Bobby Brown are happy chatting and being buds, who are we to judge?