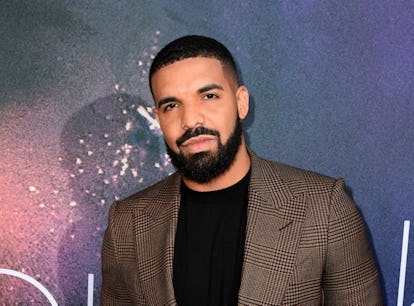 Sooo, It Sounds Like Drake Dissed Rihanna On His New Album
He really does have that dog in him.
Drake's "certified lover boy" character has left the chat. Well, somewhat. That alter-ego, the face of his sixth studio album, wore his emotions on his heart-shaped hairline. On the record, he was lost in the whims of past romances and turned that heartbreak into exhaustingly petty verses. That essence lingers on his latest For All the Dogs album, which sees the rapper sprinkling in subliminal disses (and sometimes, unserious one-liners) across 23 tracks. Some fans believe he's throwing shade at his older flames and friends, including Rihanna. Let's investigate.
The alleged shot appears on the album's fourth track, "Fear of Heights." In the opening verse, Drake cockily scoffs at rumors that he's "still hung up on" a past relationship. While he doesn't reveal the woman in question, his repeated use of the word "anti" — the title of Rihanna's 2016 record — feels a bit too on the nose.
He raps:
"Gyal can't ruin me / Better him than me / Better it's not me / I'm anti, I'm anti / Yeah, and the sex was average with you / Yeah, I'm anti 'cause I had it with you."
After flipping the word to rhyme with "auntie," Drake then seemingly throws shade at Rihanna's longtime boyfriend, A$AP Rocky. He raps, "That man, he still with you / He can't leave you" and bets the duo goes on "vacations to Antilles." The location drop feels specific to Rih, as her home country of Barbados is located in the Lesser Antilles in the Caribbean.
The alleged messiness doesn't stop there. On the Frank Ocean-sampled opener "Virginia Beach," Drake coos: "Drawin' conclusions like you got a Parsons degree or somethin' / I coulda treated you better, that's crazy." Sure, there's thousands of graduates from the Parsons School of Design — but the most popular one? Yes, it's Rihanna. In 2017, the singer received an honorary award from the art university for her "powerful music and distinct style," per Dazed.
While the possible "Virginia Beach" subliminal didn't catch fans' ears, the Anti repeat did. One fan noted the bar wasn't surprising, as Drake throwing lowbrow shade at Rihanna is an "ongoing trope in his music." Meanwhile, others believed the verse was "mid" and laughable, considering their relationship ended sometime in 2016. The duo originally met in 2005, three years before Rihanna began dating Chris Brown.
After her highly publicized breakup with Brown in 2009, Rihanna continued her friendship with Drake. Their on-and-off romance started that same year, and for the next decade, the then-couple gave fans nostalgic hits, awkward moments, and lots of shade. As a final conclusion to their connection, Rihanna told Vogue in May 2018 that she and Drake were no longer friends. However, it appears Drake and Rocky are still on good terms, which only makes the alleged shade more perplexing.
The two rappers, who've also had iconic moments together, were already friends before Rocky began his relationship with Rihanna in 2020. That status seemingly didn't shake, as the couple — who share two sons, RZA Athelston and Riot Rose, together — reportedly attended an event that Drake hosted in April 2021. At the time, a source told E! that "there's no bad blood" between the three and that Drake "likes A$AP."
Well, these new lyrics seem to tell a different story.