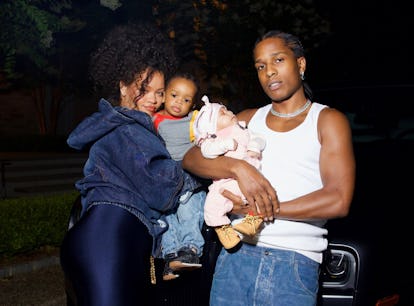 Rihanna & A$AP Rocky Shared First Photos Of Their New Son
Riot Rose Mayers is a fashion icon in the making.
DIGGZY/REX/SHUTTERSTOCK
The Fenty-Mayers empire is back. Nearly one month after welcoming their second son, Rihanna and A$AP Rocky showed him to the world. On Sept. 19, Vogue and various outlets released portraits of the couple posed with their newborn baby boy, Riot Rose, and his older brother RZA Athelston. Unsurprisingly, these new photos warmed and won social media's heart.
Rihanna and A$AP tapped fashion photographer Miles Diggs, who worked with them on their first family photos with RZA earlier this year, for this adorable moment. In the photos, the family opted for a street-inspired shoot rather than a traditional one that would most likely be set in a studio. This scenery adds a genius touch to the family's coordinating style, which meshes denim with luxury streetwear pieces.
As seen in the photos below, Rihanna and A$AP took turns cradling Riot while leaning against a car. The newborn wore a matching pink jumpsuit and durag with a pair of Timberlands, a subtly perfect nod to his dad's hometown of New York.
In another adorable shot, the couple — who began dating in late 2020 — can be seen playing with Riot as he laid on a blanket.
A$AP also had some adorable solo moments with Riot.
RZA also had time to shine, flaunting a wide smile as he sat on A$AP's shoulders.
Diggs later shared these family portraits on Instagram, welcoming the fashionable toddler to the world. Rihanna then sweetly commented, "The Mayers Boyz." If Riot's name sounds familiar, it's because A$AP released a song called "RIOT (Rowdy Pipe'n)" in July — BTW, he referred to Rihanna as his "wife" in the infectiously chaotic track.
A few days after the song's release, the couple dropped a subtle Easter egg that it was related to their newborn baby. In an ad for Beats by Dre, which features the single, Rihanna can be heard asking A$AP: "Babe, can you go to the store? We ran out of diapers."
At first, the couple kept details on their new baby's name quiet. In early August, TMZ reported that the baby's name began with an "R," just like his big brother RZA. On Aug. 8, celebrity news platform The Blast revealed his surprising yet iconic moniker. Rihanna and A$AP announced they were expecting a second baby during her February Super Bowl performance, only eight months after their first son was born in May 2022.
At the time, sources confirmed her pregnancy to Entertainment Tonight. "Rihanna adores being a mom and it's her biggest accomplishment in life," the insider said, adding the couple had been "talking about expanding their family for quite some time." "Being a mom is a dream come true for Rihanna and she takes so much pride in it."
This article was originally published on