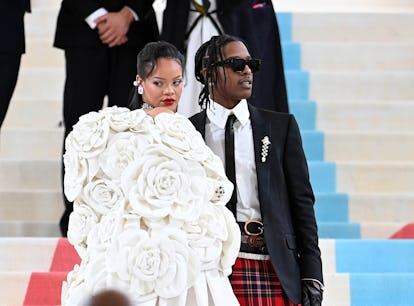 A$AP Called Rihanna His Wife, Sparking Rumors They Had A Secret Wedding
GWR/Star Max/GC Images/Getty Images
Rihanna definitely knows how to keep a big secret — her pregnancy reveal at the Super Bowl is more than enough proof of that — and fans think that she's hiding another huge life update right now. There have been rumors that Rih and her boyfriend A$AP Rocky may have secretly gotten married for a while now, but now that speculation seems even more convincing than ever. During a recent concert, A$AP Rocky dedicated a song to his "wife" in the crowd, adding fuel to the rumors that he and Rihanna had a private wedding away from the public eye.
The suspicious remark happened at the 2023 Cannes Lions Festival on June 21, during Rocky's performance at the event. "I'd like to dedicate this song to my beautiful wife in the motherf*cking building," the rapper shouted, per Page Six. All the while, Rihanna was watching and dancing along in a patio nearby.
This isn't the first time the loved-up couple has caused fans to think they may have secretly said "I do." The marriage rumors began in early May, when Rihanna wore a white Valentino gown to the Met Gala and captioned her photos from the night: "Shout outz 2 the bridal party….here come de bride."
Rihanna and A$AP Rocky first confirmed their relationship in the summer of 2021. At the beginning of 2022, Rihanna revealed she was pregnant with her first child. By that summer, she had given birth to a son, whom she finally showed off for the first time at the end of 2022. It wasn't until this May that reports surfaced revealing the infant's name: RZA Athelston Mayers.
Currently, Rihanna is pregnant with the couple's second child. Baby number two had an even bigger reveal than little RZA did, with Rihanna showing off her baby bump to the world during her Super Bowl Halftime Show performance on Feb. 12, 2023.
Back in February, Rihanna shared how having a baby with Rocky helped deepen their relationship in a British Vogue profile. "We're best friends with a baby. We have to be on the same page, but we've always kind of had that in our relationship," Rihanna said. "Everything changes when you have a baby but I wouldn't say it's done anything but made us closer. I'm just sitting on the sidelines when they're together. I'm literally the girl trying to get into the boys club, waiting for my turn. He is obsessed with his father. And I'm like: 'Didn't I give birth to you? What is going on? Their connection is undeniable. The second Rocky makes eye contact with him he is on fire."