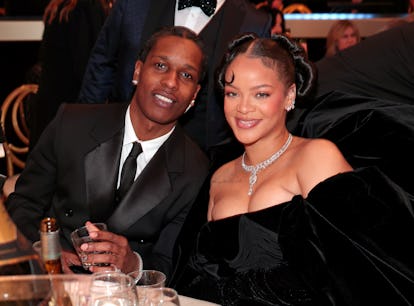 Rihanna & A$AP Rocky Named Their Son After This Rap Legend
This adds a new meaning to Wu-Tang Forever.
Christopher Polk/NBC/NBCUniversal/Getty Images
It's been nearly a year since Rihanna and A$AP Rocky became parents to their firstborn. The couple has kept their son's name a mystery, so much so that they referred to him as "baby" in Rihanna's interview with Vogue in March. Now, their son's name has been revealed, and it seems to continue a legacy of naming loved ones after icons.
On May 10, The Daily Mail obtained a copy of the infant's birth certificate, and according to the records, the couple's son's name is RZA Athelston Mayers. Rihanna nor Rocky have addressed the leaked certificate; however, that hasn't stopped fans from speculating about the origin of their son's name. His first name is rumored to be a nod to Wu-Tang Clan rapper RZA.
Their son isn't the only person in the family that's honoring rappers. Rocky, whose real name is Rakim Athelston Mayers, was also named after rapper Rakim by his mom. Rocky has confirmed the name inspiration over the years and met Rakim for the first time (as an adult) in a 2012 interview with Angie Martinez.
Nearly seven years later, Rakim — who was one-half of a rap duo with Eric B. — recalled when he met Rocky as an infant while driving around Harlem. "A lady walks across the street. I'm at the light, she walks across the street. She got the carriage and everything. She says, 'Can you sign this for me?' I never say no. I say, 'What's his name?' Rakim. I'm like word?" Rakim told Hot 97 said at the time. "I remember that day, cause that was the first time hearing someone named their son after me. Like I said, humbling experience."
It seems Rihanna and Rocky dropped subtle hints about their baby's name. Or, maybe she's just a Wu-Tang stan? While pregnant with their son in August 2022, RiRi wore RZA's merch from his Birth of a Prince album. Birth...prince — the connection is mighty strong here. More recently, in April, the ANTI singer was seen wearing an oversized Wu-Tang shirt while out at dinner with her family.
The inspiration behind Rocky and Rihanna's son's name only gets sweeter. His middle name also matches that of Rocky's. S'cute! RiRi is currently pregnant with the couple's second child; however, similar to her pregnancy with RZA, she hasn't offered many details. With that said, there's a chance the singer won't be dropping hints about her second baby's name anytime soon.