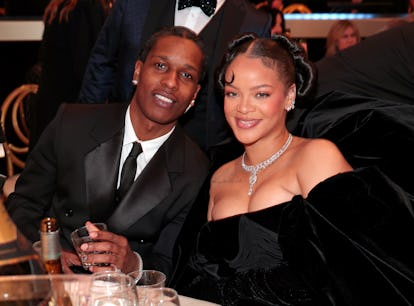 Rihanna Blessed The World With New Photos Of Her "Perfect Baby"
As a mom, she's in "protective mode."
Christopher Polk/NBC/NBCUniversal/Getty Images
Rihanna has motherhood on her brain. Just three days after revealing her second pregnancy during her Super Bowl halftime show performance on Feb. 12, the singer has given fans another glimpse of her growing family. On Feb. 15, she and boyfriend A$AP Rocky graced the cover of British Vogue with their nine-month-old son. As a child of two icons, their baby making his official debut on Vogue is fitting.
In the stunning shot, their baby boy (whose name is still unknown) can be seen in A$AP's arms as the trio walks along the beach. Clad in all black 'fits, Rihanna takes lead in the portrait with her high slit dress and teased hair. In another photo, the baby shines solo, looking straight at the camera with a similar smize to that of Rihanna's. Seriously, it's like they're twins.
In her interview, the "Born Again" singer discussed how special motherhood has been for her. She and A$AP welcomed their baby boy in May 2022. "I cannot believe it," she said, per British Vogue. "Essentially, from one person I became two. You walk into the hospital as a couple and leave as a family of three. It's nuts."
She continued, noting she and A$AP didn't have any assistance with their son for the first couple days. "It was just [A$AP and I] as parents and our baby. Man, you're a zombie for the most part," she said. "You're just going through the motions, and even then you're so paranoid. Because you're like, 'They trusted us to come home with this baby? This new life? With us?'"
Even with that, the couple are settling into parenthood already in awe of their son's growth. According to RiRi, in the first few months of his birth, she used to keep his bassinet near her just to admire him. "Those [moments] were always my favorite, his little wake-up face, seeing his face change, seeing his color come in, just all of these changes."
These revelations are touching, especially since the couple has kept their family life mostly private. In December 2022, Rihanna posted an adorable TikTok of her son. The sweet clip, which sees the baby joyously smiling into the camera, was the first time she showed him to the world. But as far as public appearances go, Rihanna revealed she and A$AP are setting clear boundaries on when to show their child.
"We get to decide as parents when and how we do that. End of story. Do what you want with me, but he doesn't have a say in any of this," she said. "We've been protecting him thus far and you don't have any consent to be posting photos or selling photos of my child, a minor. Get the hell out of here with that."
As for her relationship with A$AP, she mentioned that their strong bond (aka, being "best friends") has strengthened parenthood for them. "We have to be on the same page, but we've always kind of had that in our relationship," she said. "Everything changes when you have a baby, but I wouldn't say it's done anything but made us closer." S'cute!