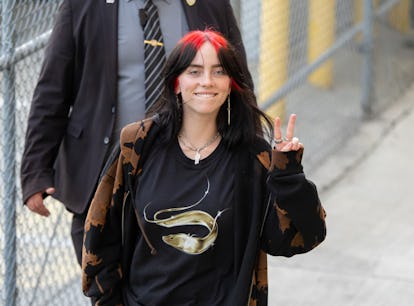 Billie Eilish Just Got A Giant Tattoo That Covers Her Whole Back
Billie Eilish is no stranger to tattoos, but her latest piece of body art is easily her biggest yet. Fans caught a glimpse of the mysterious new tattoo during one of Eilish's performances back in September, and then Eilish showed a small portion of it on Instagram. But it wasn't until recently that the singer revealed just how massive her back tattoo really is.
On Oct. 18, Eilish surprised her followers with a clear photo of the new ink that fans have been trying to see for a month. In the middle of a photo dump (in which some other photos also caused a stir), Eilish shared a pic of her back, revealing a long line design that begins at the back of her neck and follows her spine down to the small of her back.
The photo appears to be from when the tattoo was still in the process of being inked, as there are a few smudges around it and the reference design next to Eilish seems to be more filled in. The piece was done by tattoo artist Matias Milan.
The inspiration for the design isn't totally clear yet, but the black and red coloring does perfectly match Eilish's current hairstyle. The piece is also likely a more macabre reference — a quick glance at Milan's Instagram page confirms his specialty is dark, edgy designs that often include or reference bones.
A few weeks earlier, Eilish showed off the top of the finished design in another Instagram photo dump.
The spinal design is Eilish's fourth tattoo overall. She got her first tattoo at the start of 2020, right after she turned 18. Though she told fans they would never see it (given that it's located in the middle of her chest), it's been described as her middle name "Eilish" in a gothic font.
The next year, Eilish got a dragon tattooed on her right hip. Shortly after that, she got a sketch of three fairies on her left hand, inspired by her favorite childhood book "Fairyopolis" by Cicely Mary Barker.