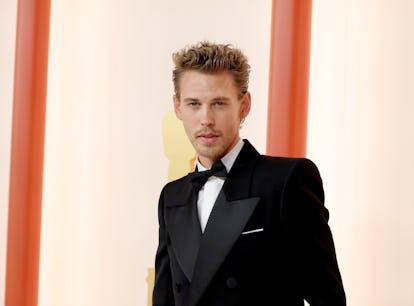 Here's Why Austin Butler Didn't Bring Kaia Gerber As His Oscars Date
Mike Coppola/Getty Images Entertainment/Getty Images
Austin Butler was ready for a big night when he arrived at the 2023 Oscars, but there was one aspect of his arrival that caught viewers off guard. Butler's girlfriend Kaia Gerber didn't join him on the red carpet, and he explained the reason during one of his pre-show interviews. Here's why Kaia Gerber wasn't Butler's date to the 2023 Oscars, and why some people were wondering about an awkward run-in with one of his exes.
Fans of Butler and Gerber's relationship were expecting the couple to show up together, especially since they've been packing on the PDA at red carpets all throughout awards season. But Butler wasn't looking for a romantic night out. When pre-show interviewer Ashley Graham asked the actor why Gerber wasn't with him, he explained that he chose to use his plus-one to bring his longtime agent, James Farrell, instead.
"I've got my best friend here with me, who is also my agent," Butler responded. "And I owe my career to him, so as a thank you, I wanted him to be by my side tonight."
Butler's fans loved the way he dodged the awkward question with grace.
Graham's question was only part of what made Butler's arrival so interesting for fans. The other Oscars pre-show host was Vanessa Hudgens, Butler's ex-girlfriend of almost a decade. Once viewers put two and two together, many was holding out hope for a reunion — even if it might've been an uncomfortable one. For better or worse, Butler and Hudgens stayed separate, with Graham handling his interview instead.
Though Butler and Hudgens broke up three years ago, their relationship has gotten some renewed attention during awards season, after Butler credited his ex with pushing him to play Elvis Presley on the big screen.
After his breakup with Hudgens, Butler began dating Gerber at the start of 2022. Their relationship began a few months after Gerber split with her ex Jacob Elordi, who interestingly enough is also about to play Elvis in a new biopic. (Still following? It's a lot!)
So, don't worry about any potential trouble in Butler and Gerber's relationship just because they didn't go to the Oscars together — Butler just wanted to thank his manager with a star-studded night.