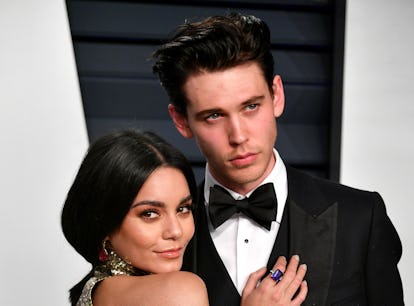 Did Austin Butler Shade Vanessa Hudgens By Calling Her "A Friend"?
He kept things vague when discussing the inspiration for Elvis.
Dia Dipasupil/Getty Images Entertainment/Getty Images
Austin Butler won a Golden Globe for his role in Elvis on Jan. 10, but he forgot to give one person a very important thank you: his ex-girlfriend, Vanessa Hudgens. Butler and Hudgens dated for nine years until January 2020, and while they were together, they were nothing but supportive of one another. In fact, it was Hudgens who first thought Butler should play Elvis; she had the idea a few weeks before Baz Luhrmann reached out. According to Butler, however, a "friend" manifested the role for him.
The Elvis star recounted the story during The Hollywood Reporter's Actors Roundtable on Jan. 10. "So I was looking at Christmas lights, there was an Elvis Christmas song on the radio, and I was with a friend of mine, and I was singing along, and my friend kind of looked over at me and goes, 'You've got to play Elvis.' I said, 'Oh, that's such a long shot,'" Butler explained. "Then a couple of weeks later, I was playing the piano. I never really sang for any of my friends or anything. That same friend was there, and I was playing the piano. She said, 'I'm serious. You've got to figure out how you can get the rights to a script.'"
A few weeks later, he heard from Luhrmann about the Elvis biopic, and the rest is history. So, um, why is this comment so shady? Although being friends with an ex is normally a good thing — and a sign of a mature, amicable breakup — in this case, Butler's ambiguity feels pointed. One fan commented on Twitter, "it's the way austin butler would not have even remotely considered the elvis role without vanessa hudgens and he has said multiple times that she told him to try it one day and now he keeps calling her a friend as if they weren't the coachella couple for years straight i-" Another wrote, "Thinking about Austin Butler referring to Vanessa Hudgens as a "friend" when she held him down for a decade. Men never fail to surprise me."
ICYMI, Hudgens told the same story about Butler's Elvis role back in August 2019, when the duo was still together. During an appearance on Live With Kelly And Ryan, she explained how she knew Butler needed to play Elvis. "It's so crazy because last December we were driving along, and we were listening to Christmas music and an Elvis Presley Christmas song came on. And he just dyed his hair dark, he's a natural light blonde, and I was looking at him, and he was singing along, and I was like 'Babe, you need to play Elvis. I don't know how but like I'm serious you need to play him,'" she said.
"And then [in] January, he was sitting at the piano — he's a musician — and he's playing, and he's singing, and I'm like 'I don't know how but we need to figure out how you can play Elvis, like, I don't know how we get rights or what we do, but you need to play him, it is your calling,'" Hudgens continued. "And then that next month we get a call saying Baz Luhrman is doing the Elvis biopic, and I was like 'Babe, this is it.'"
Seems like Hudgens is still waiting for her "Thank you very much."