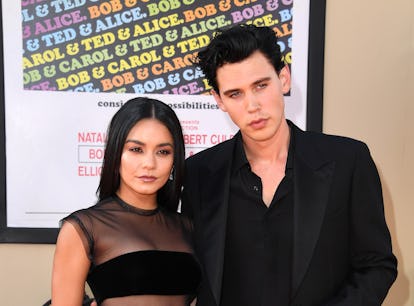 Austin Butler Finally Cleared Up Vanessa Hudgens' Elvis Connection
"I owe her a lot for believing in me."
Steve Granitz/WireImage/Getty Images
Austin Butler has finally confirmed the identity of the "friend" who inspired him to play Elvis Presley, and it was none other than his ex-girlfriend Vanessa Hudgens.
In a Jan. 24 interview with The Los Angeles Times, Butler was asked to clarify previous comments he made in a roundtable interview with The Hollywood Reporter, during which he revealed a "friend" gave him the idea to play Elvis before he was even offered the role. "I was with my partner at the time," Butler told the L.A. Times, before confirming it was Hudgens, who he dated for nearly a decade. "We'd been together for so long and she had this sort of clairvoyant moment and so I really, I owe her a lot for believing in me."
Just two weeks prior, Butler told The Hollywood Reporter that he actually had the idea to play Elvis a month before he heard director Baz Luhrmann was making a film about the rock star. "I was going to look at Christmas lights with a friend, and there was an Elvis Christmas song on the radio," Butler said. "I was singing along, and my friend looked over at me and goes, 'You've got to play Elvis.'"
At the time, Butler thought it was a "long shot," but that all changed when his agent called to tell him about Luhrmann's film. "The hairs just stood up on my arms," Butler said about hearing the news.
Although Butler didn't initially reveal the identity of the person who encouraged him to play the late singer, many fans assumed it was Hudgens since she told a similar story while appearing on Live with Kelly and Ryan in August 2019. A month after it was announced Butler had landed the leading role in Luhrmann's Elvis, Hudgens told Ryan Seacrest that she knew Butler was destined to play him.
"Last December, we were driving along and we were listening to Christmas music, and then an Elvis Presley Christmas song came on," Hudgens said. "[Butler] had just dyed his hair dark — he's a natural blonde — and I was looking at him and he was singing along and I was like, 'Babe, you need to play Elvis.'"
Since Elvis premiered in theaters in June 2022, Butler has earned countless awards and nominations for his role in the film. After taking home Best Actor at the 2023 Golden Globes on Jan. 10, Butler was nominated for the same award at this year's Oscars, which will take place on March 12.