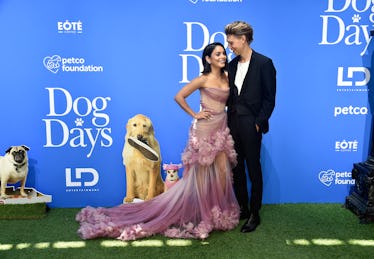 Vanessa Hudgens & Austin Butler's Relationship Timeline Is Serious Relationship Goals
Frazer Harrison/Getty Images Entertainment/Getty Images
How awesome would it be if there was magic love glitter we could sprinkle over ourselves to make a relationship last forever? If such a glitter did exist, I can promise you that Vanessa Hudgens and Austin Butler must have a lifetime supply because these beauties have been together so long, I've almost stopped counting. Seriously, they've been an item for a whopping seven years and are still going strong. TBH, it really makes you wonder if something in Vanessa Hudgens and Austin Butler's relationship timeline holds the secret to their long-term bliss.
It turns out, the duo were good friends long before they started seeing each other romantically. According to the Daily Mail, their first meeting was in 2005, while Hudgens was still dating her long-time High School Musical co-star Zac Efron. It wasn't until years later, in 2011 when rumors began to swirl that the two might be more than just friends, after Butler was allegedly spotted leaving Hudgens' home. However, the couple made one of their outings together in September of that same year when they were seen smooching over milkshakes at a Los Angeles hotspot.
The duo continued to be seen together around town and abroad kissing n' caressing like it was their job. They weren't not confirming that they were in a relationship, but they didn't up and tell us for sure, either. A year later in September 2012, they were still giving off major "in love" vibes while making out at an Italian restaurant in Venice during the debut of Spring Breakers at the 69th annual Venice Film Festival.
During the 2015 MTV Music Video Awards, Butler glowed as he talked about his love for Hudgens and how they've managed to make their relationship work.
"It's important to put that other person first," Butler told Entertainment Tonight. "If you're constantly looking for ways that you can make them happy, and they're constantly looking for ways that they can make you happy, then you kind of lift each other up as much as possible and you can't go wrong."
In early 2017 the couple reportedly decided to give long-distance a shot so Butler could start filming for the MTV show, The Shannara Chronicles while Hudgens was working on NBC's Powerless. It's no secret that long-distance can be tough on any relationship, no matter how famous you are. But still, Hudgens and Butler persevered.
"Just communication, communication is key," Hudgens told People at a pop-up launch in March 2017. "I think that if anything's bothering you, don't hold it in. Always bring it up and just talk about it. Uncensor yourself and just be open." Both Butler and Hudgens also have a long history of making their love for one another known on social media, and needless to say, it's v cute.
During summer 2017, while on vacation in the Hamptons, Hudgens posted an epic sunset cuddle pic of her and Butler that couldn't be more perfect. I swear, these baes are so adorable it should be outlawed.
So, by now you're probably wondering if and when Vutler plan on tying the knot. Well last December, Hudgens kicked up quite the Instagram storm after posting a selfie with major bling on that finger. But a few days later she set the record straight via Twitter.
"Guysssss. I'm not engaged! I posted a pic. Not to show off my ring that I happened to throw on that finger after a long day of filming but to show off my haircut Lol," she explained.
When asked earlier this year if any of the engagement rumors and suspicion has resulted in pressure to seal the deal, Hudgens doubled down on the strength of her and Butler's relationship. "No, because if I felt pressure in a relationship, we wouldn't have been together for almost seven years," Hudgens told Entertainment Tonight. "Each couple has their own journey."
No one knows what the future holds for Butler and Hudgens, but if the past is any indication, it seems like they'll continue following their bliss, supporting one another, and moving forward at the pace that's right for them.