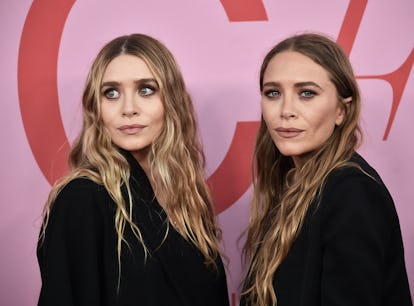 1 Of The Olsen Twins Is Officially A Mom Now
An Olsen baby has arrived.
WWD/Penske Media/Getty Images
A new generation of Olsens has begun. On Aug. 14, several outlets reported that Ashley Olsen had given birth to her first child with husband Louis Eisner. Since Ashley and her twin sister Mary-Kate Olsen are famously very protective over their private lives, there aren't too many details about the newborn. But the reports did reveal the child's sex and name.
The new addition to the Eisner-Olsen clan is a baby boy named Otto, as reported by TMZ and confirmed by People. There are no details about when specifically Otto was born. His birth makes Ashley the first of her three siblings (twin Mary-Kate and younger sister Elizabeth) to become a parent. Of course, the news will likely be a bit jarring for millennials who grew up in the heyday of Mary-Kate and Ashley, when they were ruling showbiz as child actors.
Olsen married Eisner in a private ceremony at the end of 2022. They had been linked since 2017, although the couple never publicly spoke about their romance. In 2019, engagement rumors swirled around them when Olsen was spotted wearing a ring on her left ring finger. They finally made their red carpet debut as a couple in 2021, a little over a year before they would say, "I do."
And now the two are proud parents to little Otto. Although Olsen and Eisner are sticking true to their privacy rule following Otto's birth, it's clear the baby boy is going to grow up with some amazing aunts. Ashley has always been known for her close bond with twin sis Mary-Kate throughout the years. Most recently, Mary-Kate divorced her husband of five years Olivier Starkozy. The two had been dating since 2012, and tied the knot in 2015, but Mary-Kate filed for divorce in 2020, and it was finalized the next year.
As for Elizabeth Olsen, she's taken an opposite approach to fame as her reclusive sisters, becoming one of the most sought-after Hollywood stars of the 2020s thanks to hit shows like WandaVision and Love & Death. She also recently got married in 2022, eloping with musician Robbie Arnett.