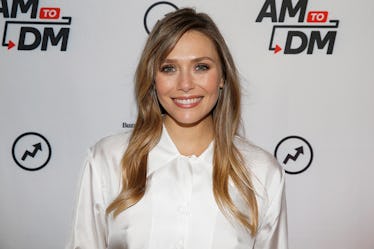 Elizabeth Olsen's Relationship History Includes A Fellow Avenger
Dominik Bindl/Getty Images Entertainment/Getty Images
When you watched your older sisters grow up in the spotlight, it makes sense that you'd want to keep your love life under wraps. Elizabeth Olsen's relationship history isn't a total mystery, but much of it is only reported, as the WandaVision star rarely divulges any deets about who she's dating. TBH, Olsen rarely talks about her personal life at all (and apparently, some fans are just finding out she's related to Mary-Kate and Ashley Olsen, which is wild to me). However, I do know one thing for sure: She and her fellow Avenger Chris Evans were sadly never an item, despite rumors that they were.
During a May 2016 episode of The Ellen DeGeneres Show, DeGeneres asked Olsen and Evans about the rumored relationship, and the two laughed it off. "Well, we've been dating secretly for the last three years," Olsen joked. "We're actually engaged." Later she added, "We were about to move in with each other, but we're still trying to figure out if we're dating or not." So much for that.
However, Olsen does appear to be engaged to someone else at the moment (and apparently, she's also called off an engagement). Here's what I know about her super-secretive dating history over the years.