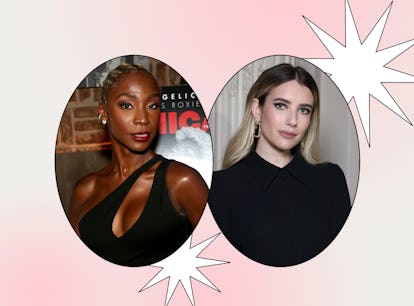 Angelica Ross Said Emma Roberts Apologized For Allegedly Misgendering Her
Both actors appeared in American Horror Story: 1984.
Bruce Glikas/Getty Images Entertainment/Getty Images/Pascal Le Segretain/Getty Images Entertainment/Getty Images
Angelica Ross and Emma Roberts are moving forward. On Sept. 19, Ross went on Instagram Live to talk about her unpleasant behind-the-scenes experience on American Horror Story: 1984. The actor alleged Roberts, who also appeared in the show's ninth season, made a transphobic remark to her while on set. Now, according to Ross, Roberts has privately apologized to her about the incident.
"Thank you @RobertsEmma for calling and apologizing, recognizing your behavior was not that of an ally," Ross wrote in a Sept. 20 tweet. "I will leave the line open to follow up on your desire to do better and support social justice causes with your platform." In a separate tweet, the Pose actor thanked fans for their support and asked them not to joke about violence against Roberts. "Joke about her being held accountable. Now THAT's funny," she wrote.
Ross' recounting of the alleged incident went viral on X, formerly known as Twitter, earlier that day. In the video, the transgender actor revealed she and Roberts were having playful banter on set. Roberts then jokingly complained to John J. Gray (an executive producer and director for AHS) that Ross was being mean to her, and he diffused the situation by saying: "Okay, ladies. Let's get back to work." According to Ross, that's when the conversation took a turn.
"[Roberts] then looks at me and goes, 'Don't you mean lady?'" Ross said, adding that Roberts walked away soon afterward. The actor said she stood there in disbelief and "tried to process" what Roberts had implied. She said, "My blood is boiling. Boiling. Because if I say something, it's gonna be me that's the problem."
Ross then revealed she was hesitant to speak up, as another on set member — whom she didn't name — allegedly faced "repercussions" for talking about their unpleasant experience with Roberts. Elsewhere in the Instagram Live, Ross said the Scream Queens alumni "played mind games with everybody on set" and that she "tried to compare salaries" with her other 1984 co-stars.
Many users were shocked by the allegations, while others believed Ross had been dropping hints about the interaction since the season's release in 2019. The same day Ross' live went viral, a fan account for actor Cody Fern (who also appeared in AHS' 1984) posted an old video of the cast watching the season's premiere. Interestingly, it seems Roberts didn't attend the viewing party at the time. As Ross sent a shoutout to the show's LGBTQ+ fans, the actor said everyone's "watching for the transphobia on set." Billie Lourd chimed in, saying: "Always. We will come for you."
This revelation comes one day after Ross alleged Murphy ghosted her about a potential idea for American Horror Story. On Sept. 18, Ross shared alleged screenshots of email conversations she had with the illustrious producer in July 2020. At the time, Murphy was interested in building a new season with an all-Black cast and reached out to Ross about starring in it.
In another reported screenshot, Ross showed her interest in the season's concept and asked to be considered for producing duties. However, according to her, she never heard back from Murphy. "I sent one last email in Feb 2022 (it took about a year to film season 10 due to COVID) while still contractually in first position with the show," she wrote, adding she lost out on a potential Marvel opportunity as a result.
Murphy, who recently started Season 12 of AHS: Delicate, has not publicly responded to Ross' claims.
This article was originally published on