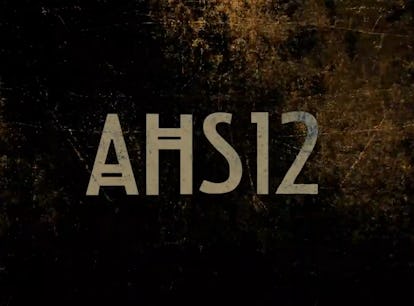 Kim Kardashian & Emma Roberts Will Star In The New AHS Season
FX
Step aside, Coven. Sorry, 1984. But the actual campiest season of American Horror Story is about to make its debut. At least, that's judging from Season 12's surprising cast list. Although much of the upcoming AHS season is shrouded in mystery, as per usual, the few details that have already trickled out make it sound like it's going to be a total treat for fans of the campier iterations of the anthology. If you're ready to get your scream on, here's everything to know about American Horror Story Season 12.
The status of Season 12 had been secure for years before it entered production. FX renewed its hit horror series for a whopping four seasons at once back in 2020, following the success of Season 9's slasher-inspired 1984. Because Season 13 is already confirmed, there's no danger of this being AHS's last hurrah, so fans can expect some fun departures rather than any overarching attempts to wrap the series up. And from the looks of the cast list, Season 12 is going to double down on the fun.
American Horror Story Season 12 Cast
The first bit of information about Season 12 arrived on April 6, when it was revealed Matt Czuchry will star. The casting came on the tails of his medical drama The Resident being canceled, but Czuchry is probably better known for his role as Rory's wealthy bad-boy boyfriend Logan in Gilmore Girls.
The biggest shock came on April 10, when Kim Kardashian revealed she had joined the cast.
This marks Kardashian's first major television role in which she's not playing herself, following her decades of reality TV success.
The teaser announcing Kardashian's casting also confirmed AHS veteran Emma Roberts will be back for Season 12. This will be Roberts' sixth time starring in an AHS season, after she helmed Coven, Freak Show, Cult, Apocalypse, and 1984. Roberts' character has not been unveiled yet, so it's anyone's guess if she will be playing a new role or reprising a character she's played in past seasons.
American Horror Story Season 12 Trailer
There's no full trailer for the season yet, but Kardashian did share a creepy teaser to announce her and Roberts' casting.
American Horror Story Season 12 Theme
The theme is also still a mystery, but the teaser seems to suggest it will have something to do with children.
American Horror Story Season 12 Predicted Release Date
The new season will be released on FX and Hulu this summer, although an exact date has yet to be announced.