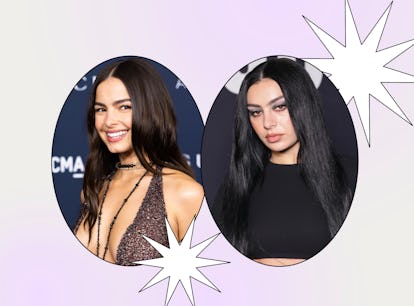 Is Addison Rae Reviving Her Lost Pop Career With Charli XCX?
The hints around this rumored collab has me quaking.
Addison Rae is finally having her main pop girl moment. Like many TikTok phenoms, Rae has used the platform to open doors to other career titles — such as scoring a Netflix deal as a freshman actor or living her Life-Size dream with her own doll line. And while she's found mixed success in those lanes, the real miss has been her music career. She kicked off her pop princess debut with one single (2021's "Obsessed), but she's yet to add another release to her short catalog. Now, it appears the star is ending her music drought with the help of *checks notes* Charli XCX. Talk about a comeback.
Since the release of "Obsessed," Rae has cheekily showed that she's serious about creating music. That's culminated in her posting snippets of other songs (which sounds like a modern ode to Paris Hilton), she's worked on over the years. However, a lot of those gems were leaked and never officially released, and created what Rae defines as her "lost album." Luckily, she's found her ownership over those tracks.
On Aug. 14, Rae announced the release of her long-awaited debut album on Instagram. "dug up a few of the leaks from the lost album 💗AR 8.18," she wrote on the post, which features a cover art of herself blowing bubble gum. Similar to her sound, this album cover ~screams~ Y2K pop girl on the rise.
This sudden news shocked and excited fans, including Charli XCX. Hours after Rae revealed her album release, the "Hot Girl" singer reportedly shared it on her own Instagram Stories. "Gonna be 2 die 4 wow I can't wait," she wrote, per Pop Crave.
This support didn't surprise fans, as Charli has praised Rae and her stunted yet promising music career in the past. Shortly after the release of "Obsessed," Charli called Rae a "great pop star." That same year, the duo worked together as shared ambassadors for Pandora's ME jewelry collection.
Charli's support hasn't stopped there, and that's led many fans to believe she's teasing her involvement on Rae's upcoming album. Specifically, this theory derives from Charli's inclusion of '2 die 4' in her Instagram post. This line felt familiar to Rae's fans, as one of her many leaked singles is also titled "2 die 4." Also, Charli complimented the track as "art" on Twitter. Coincidence, maybe?
That's not all, though. On Aug. 15, Rae further revved up the collaboration rumors on Instagram. There, the He's All That star posted a photo carousel of images linked to "2 Die 4," almost hinting this track might be her next single. The post features white and pastel hearts, a one-off shot of Rae blowing bubblegum, and a picture with Charli XCX.
If Charli's previous teases weren't promising, this post certainly is. Rae's post sent fans into a frenzy, with many shocked this collaboration might be in the cards.
With these reactions, one thing's for certain: It's clear Rae's once scrapped, now revived album was meant to be heard.