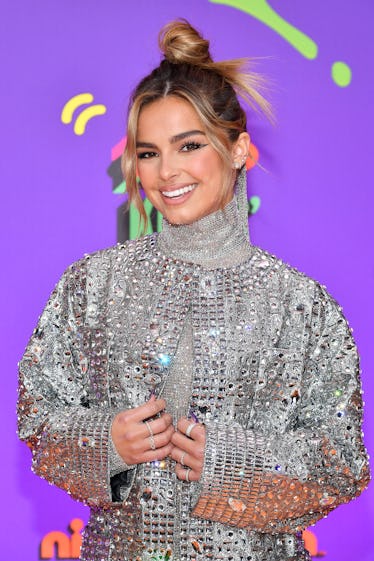 Addison Rae Dropped A Surprise Single, "Obsessed," & Twitter Has Mixed Feelings
Amy Sussman/KCA2021/Getty Images Entertainment/Getty Images
Surprise! On Friday, March 19, Addison Rae dropped her debut single, "Obsessed." The 20-year-old shared the link to her song on Instagram with the clickbait-inspired caption, "I'VE BEEN WAITING TO POST THIS...." Fans definitely didn't expect to find Rae starring in her first music video. She asked everyone what they thought about it and these tweets about Addison Rae's debut single, "Obsessed," are so mixed.
Rae, who is the second most-followed TikToker with over 78 million followers, expressed her excitement on Instagram. "OBSESSED out NOW on all platforms!!!!! I'm so emotional right now. this song makes me feel so many things!!! I love music. that's all," she told fans.
In her song, Rae sings about being "obsessed" with herself. "I'm obsessed with me-e-e as much as you/ Say you'd die for me, I'd die for me-e too," she sings. "And if I lost you, I'd still have me, I can't lose/ When you say that you're obsessed with me, me too."
The star told Vogue the message behind the song is how she's learned to love herself for who she is, and although there are days when she "struggles" to accept herself, she's making progress.
Watch Rae's "Obsessed" music video below.
"Obsessed" is Rae's latest move branching out away from TikTok. Besides landing the starring role in the upcoming He's All That movie, which is a remake of the classic '90s film She's All That, Rae is busy working on her Mama Knows Best podcast and her vegan-friendly beauty line, ITEM BEAUTY. When she asked everyone on Twitter their thoughts on her debut single, her fans showed her some love.
However, others on Twitter weren't thrilled about her (or any TikToker) going into music.
According to Rolling Stone, Rae plans to drop more music soon. Love it or hate it, she's not going anywhere.