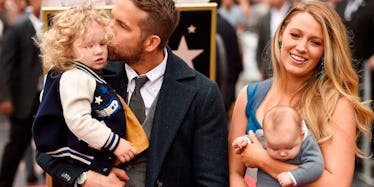 Celebrity Babies Who Are So Cute, You Won't Be Able To Handle It
Matt Winkelmeyer/Getty Images
Need a little midweek pick-me-up? No, not puppies... babies! The only thing better than celebrities is the beautiful offspring they produce.
Here's a list of celebrity babies that are so cute, your heart may just explode all over your computer.
Luna Legend
One of our favorite celeb babies has to be Luna Legend. Chrissy Teigen and John Legend did good, real good.
Besides being super real when it comes to parenting, they always post the cutest photos and videos. Plus, they're always doing fun stuff, like throwing Luna a pizza party.
Those cheeks though! Ugh, I can't.
York Banks Asla
Tyra Banks has the sweetest son, and he's already smizing at just eight months old. Would you expect anything less from the offspring of Tyra?
I'm sorry, but this picture is fierce AF. does this baby have a modeling contract yet?
Saint West
Although we hear a lot about Kim Kardashian West's oldest, North, Saint is such a precious little bundle. He's always rocking Adidas sweatsuits, and can even get his father, Kanye West, to crack a smile.
Freddie Tomlinson
Ugh, so presh. Who would've thought Louis Tomlinson would go from 1D to pretty normal fatherhood. Louis and Briana Jungwirth, Freddie's mother, have kept the first year pretty quiet. We don't blame them.
Boomer Phelps
What do you get when you mix an Olympian swimmer and beauty queen? Boomer Phelps. It's hard not to fall in love with his curls or sweet smile.
They keep Boomer pretty with it. He has his own Instagram @boomerphelps full of cute baby shots and Michael Phelps in hot dad mode.
Dream Kardashian
Drama aside, how cute is Dream? The daughter of Rob Kardashian and Blac Chyna seems so mellow and sweet. Her eyebrows are so key!
Maya and Alma Versano
Gal Gadot is absolutely stunning as Wonder Woman, but she gets an even brighter glow with her kids. Her and husband, Yaron Versano, have two gorgeous girls.
Billy Kimmel
Jimmy Kimmel shared the heartbreaking story of Billy undergoing heart surgery at just three days old during his monologue. This little guy is such a fighter, how could you not love him?
James and Ines Reynolds
Only Blake Lively and Ryan Reynolds could produce offspring this adorable. Baby Ines and big sister, James, joined Reynolds while he received his Hollywood star.
Ines is so little and precious and makes my maternal clock tick.
Another thing we love about this clan is how hilarious they are. Reynold's frequently tweets hilarious advice and observations about fatherhood.
The list goes on-and-on for cute celebrity babies, we've only just scratched the surface. Now waiting to see Beyoncé's new bundle of loves.
Tick, tock!