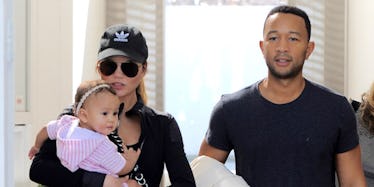 Chrissy Teigen & John Legend Throw Baby Luna A Pizza Party And We're So Jealous
Shutterstock
It doesn't take much for us to swoon over Chrissy Tegien and John Legend. Throw baby Luna into the mix, and our hearts are theirs for the taking.
The trio repeatedly delivers all the adorable feels. Time and time again, we find ourselves loving every aspect of this little family. Of course, Chrissy's latest Instagram is no exception.
While traveling with "dada" John on tour, both Chrissy and Little Lu tag along for all the fun. Their latest adventure? Getting a slice of pizza in Chicago.
Though I am partial to New York pizza (and a diehard Umberto's fan, which is what happens when you're born and raised on Long Island) I fully support Chrissy's excitement over their family dinner date. There's no better way to my heart than a good slice of grandma pizza and obsessing over Lady Lu.
Following a caption that reads "LOU MANALTI'S #CHICAGO," Chrissy posted a video carrying Lu in her arms while circling the table singing "pizza party, pizza party, pizza party."
UGH, THE CUTE! CAN'T HANDLE IT! SAVE US A SLICE, LU!
That's pretty much the same sentiment I feel when I'm treated to a pizza party. My pop has been kind enough to offer a dinner date at Lucali tonight, though I am sure we'll be waiting in line for six hours rather than dancing around like Chrissy and Luna... but that's beside the point.
It's wonderful to see how down-t0-earth and loving these two are to their child. Just look at John helping Luna serve the first pitch at a Seattle Mariners game this week. (She has way more athletic ability than I do, by the way.) It's a whole bundle of cuteness for sure.
Despite the hardships Chrissy experienced with postpartum depression, she came out on top — healthy, caring, and honest.
We can't help but love the Legends for being #relationshipgoals and #parentgoals.
We'll join you for a pie when you're in New York, Lu!