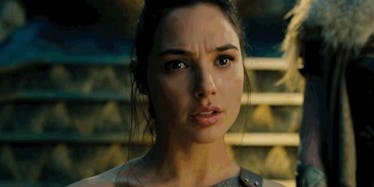 Gal Gadot's 'Wonder Woman' Salary Was Revealed And It's Less Than Wonderful
DC
Wonder Woman is cleaning up at the box office, but in a surprising twist, the film's star Gal Gadot is reportedly being paid a shockingly small amount of money.
In the three weeks since its release, Wonder Woman has raked in around $600 million worldwide, and it shows no signs of slowing down. The movie has already proven itself to be the most critically successful film in the DC Extended Universe, and now it looks to be on its way to becoming the most lucrative as well.
But the woman at the center of the movie's huge success isn't sharing in the hundreds of millions in profits. Reportedly, Gal Gadot only made $300,000 for her part in Wonder Woman, according to a report from The Daily Dot.
That salary estimate comes from a 2014 report from Variety that revealed Gadot had signed on to make $300,000 for each of the three DC movies in her contract (Batman v Superman: Dawn of Justice, Wonder Woman, and the upcoming Justice League).
Clearly, this deal was made before anyone knew how huge Wonder Woman would be, and now Gadot could only be taking home a shocking 0.05 percent of her movie's overall profits. Considering it wouldn't even be Wonder Woman without her, that's a pretty insane thing to wrap your head around.
Compare that to the reported $14 million Henry Cavill took home for playing Superman in Batman v Superman: Dawn of Justice or the reported $20 million and $7 million paychecks Will Smith and Jared Leto respectively made for starring in Suicide Squad.
Apparently, trapping their stars in multi-picture contracts with relatively low, fixed salaries is a common practice for DC's rival studio Marvel. Before he knew how immensely popular the franchise would become, Marvel locked Chris Evans in for a $300,000 multi-picture deal similar to Gal Gadot's.
The good news for Gadot is her contract with DC will be up after Justice League, and given there's a huge interest in getting a Wonder Woman sequel made, she should have an easy time renegotiating a new contract that pays her millions instead of just thousands.